Home Asia Pacific South East Asia Myanmar Myanmar Protest News


Prominent Myanmar monk still jailed
by Aung Hla Tun / Jason Szep; Editing by Alan Raybould, Reuters,
YANGON, Myanmar -- A prominent Buddhist monk believed freed from a Myanmar prison on Wednesday in an amnesty for thousands of inmates remains behind bars following conflicting reports by his supporters.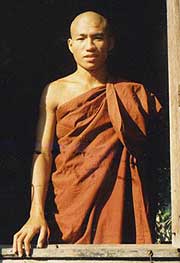 << Ashin Gambira in April 2007 in Yangon
The monk, Ashin Gambira, was a leader of the All-Burmese Monks Alliance which played a prominent role in street marches in 2007 that were violently suppressed by the then-military junta.
He was 27 when he was sentenced in 2007 to 68 years in prison.
Local activist sources initially said he had been released from Kalay Prison, one of many prisons in the reclusive country where political activists and politicians have been held.
But activist lawyer Aye Myint told Reuters that subsequent checks of the prison showed he remained in jail.
"Amnesty International continues to call upon the Myanmar authorities to release him immediately and unconditionally," the human rights group said in an e-mailed statement.
Myanmar freed at least 300 political prisoners including several prominent dissidents on Wednesday, leaving an estimated 1,800 behind bars, as one of the world's most reclusive states begins to open up after half a century of iron-fisted rule.