Home Asia Pacific South East Asia Myanmar Myanmar Protest News


Monks end rare Myanmar protest
By Hla Hla Htay, AFP, Nov 16, 2011
MANDALAY, Myanmar -- Five Buddhist monks ended a rare protest in Myanmar on Wednesday, after they attracted hundreds of onlookers with their demands for peace and the release of all political prisoners.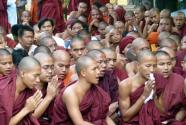 The protesters called off their action at a monastery in the country's second-largest city of Mandalay after up to 700 people, most of them monks, gathered to hear an hour-long speech by the main demonstrator.

The rally was thought to be the first since mass protests led by monks in 2007 - known as the "Saffron Revolution" - were brutally quashed, with the deaths of at least 31 people and the arrest of hundreds of monks.

The two-day protest came as ministers at a meeting of the Association of Southeast Asian Nations (ASEAN) on the Indonesian island of Bali recommended that Myanmar should be handed the rotating chairmanship of the bloc in 2014.

Hopes for change in Myanmar have grown recently following a series of reformist gestures as the country appears keen to end its international isolation, but pressure is still on for the release of all political detainees.

This was a key demand of the monks, who unfurled banners in English and Burmese reading: "Free all political prisoners" and "Stop civil war now" - a reference to the decades-long conflict between the army and ethnic minority rebels.

Their third demand is freedom of speech for monks.

They had earlier vowed to keep up their protest until Friday, but called it off early after senior religious clerics at Masoeyein monastery asked them not to continue, protest leader Ashin Sopaka told AFP.

He said the rally had been "very satisfying" and insisted this was not the end of the road.

"We will continue working for peace. If our three demands are not fulfilled we must push on with them," he said.

The five demonstrators drew hundreds of people, including many monks and dozens of plain-clothes police, when they started their protest on Tuesday after an expected amnesty for political detainees failed to materialise.

Myanmar's nominally civilian government that replaced a military junta in March has surprised critics by holding direct talks with opposition leader and democracy icon Aung San Suu Kyi and freezing work on an unpopular mega-dam.

But the release of all of the country's political prisoners, whose exact numbers remain unclear, remains one of the major demands of Western nations which have imposed sanctions on Myanmar.

Activists have criticised the plan to hand the ASEAN chair to Myanmar in 2014, saying it could remove the incentive for more fundamental change in a nation still accused of serious rights abuses.

Authorities had been expected to free some political detainees on Monday before President Thein Sein attends the ASEAN meeting later this week.

But officials said the move was put off at short notice for reasons that remain unclear.

The Mandalay protest came after police in September prevented a planned rally by some 200 pro-democracy activists on the fourth anniversary of the bloody crackdown on the 2007 monk-led uprising.

Another monk who took part in Wednesday's action said: "We would like to say to the president: implement our demands as soon as possible."