Home Asia Pacific South East Asia Myanmar Myanmar Protest News


Buddhist Abbot Under Pressure Since Clinton Visit
THE IRRAWADDY, December 14, 2011
Rangoon, Burma -- A prominent Buddhist abbot whose monastery in Rangoon has hosted a number of political events says he has come under pressure from the authorities since meeting with US Secretary of State Hillary Clinton during her visit to Burma earlier this month.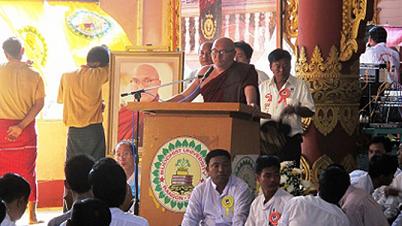 << Shwe Nya Wah Sayadaw, a pro-democracy Buddhist monk, speaking at the ceremony marking the 20th anniversary of pro-democracy leader Aung San Suu Kyi being awarded the Nobel Peace Prize. (Photo: Irrawaddy)

"I am facing pressure that may change my life completely or destroy everything that I have built in my lifetime," said Ashin Pyinna Thiha of the Sardu Pariyatti Monastery in Kyeemyindine Township, speaking at a ceremony held at the monastery on Saturday to mark the 20th anniversary of pro-democracy leader Aung San Suu Kyi' being awarded the Nobel Peace Prize.

Also called Shwe Nya Wah Sayadaw, the abbot is well known for allowing his monastery to be used by student activists and others as a venue for political events. Due to his prominence in the activist community, he was one of several civil society leaders who met with Clinton during her landmark trip to Burma in the first week of December.

He said he was unable to say why he has come under pressure, but suggested that it could be because of his meeting with Clinton or his outspoken stance on political issues.

"I don't know if it was because of my meeting with Secretary Clinton, or because the monastery hosted a National Day ceremony, or because of my calls for the release of political prisoners," he said.

Without elaborating about what kind of pressure he was facing, the abbot said he wouldn't allow it to instill fear in him.

"I am neither upset nor distracted. I am fully committed to sacrificing my life for the greater cause of truth," he said.

Concerning his decision to allow Suu Kyi's supporters to commemorate her Nobel Peace Prize at the monastery, he said that he had already given them permission before they even asked for it.

Speaking at the event, he also vowed to keep working for peace in Burma until the country achieved it.

"We are calling for the release of political prisoners and the end of civil war, but in a word, what we want is peace. As long as political prisoners remain behind bars and there is war on the border, there is no peace," he said.

In her speech, Suu Kyi also emphasized the need for peace in Burma, a country that has suffered through numerous military and political conflicts since achieving independence.

"Peace is first, peace is second and peace is third. We should bear in mind that we now have an opportunity that we didn't have before to restore peace. Such an opportunity may not come back again soon, so we must take it and use it for the betterment of all. If we go forward with that belief, peace and democracy will prevail in our country sooner rather than later," Suu Kyi said.