Home Asia Pacific South East Asia Myanmar Myanmar Protest News


Myanmar 'Saffron Revolution' Leader Detained Within Month Of Release
RTTNews, Feb 12, 2012
Yangon, Myanmar -- A high-profile political prisoner released by the Myanmar government last month was taken into custody on Friday, reports said.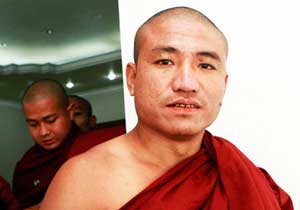 << Shin Gambira, a prominent Buddhist monk in Burma who has been detained by authorities again. Photograph: Khin Maung Win/AP

Ashin Gambira, leader of the Buddhist monks' alliance that led brutally suppressed anti-government rallies in September 2007, was picked up from a monastery in Yangon in a covert operation after midnight. Reports said he was arrested for interrogation for "breaching regulations."

The outspoken dissident, who had reportedly been reopening monasteries closed by the military government after the 2007 "saffron revolution," was taken away because he broke the locks of three monasteries since his release, reports quoting an official who requested anonymity said.

Gambira was detained on the day Myanmar began campaigning for the parliamentary by-elections slated for April 1.

Gambira, 32, has been serving a 68-year jail term for being in the forefront of protests against the military junta sparked by hiked fuel and food prices, when the democratically-elected government released him as part of an amnesty to political prisoners on January 13.

Gambira expressed relief in getting freedom, but said the country "still has a long way to go."

"Although they are releasing prisoners now, they still have characteristics of the dictatorship," the monk told Democratic Voice of Burma, which is broadcasting in exile in Norway.

The West hailed the release of 300 political prisoners as a major step towards democratic reform.