Home Asia Pacific South East Asia Myanmar Myanmar Protest News


Prominent activist monk faces legal action in Myanmar
Reuters, February 19, 2012
YANGON, Myanmar -- Shin Gambira, a Myanmar monk jailed for his role in protests in 2007 and released in a January amnesty, faces action by the authorities because he has "repeatedly broken Buddhist monks' code of conduct and the law", state newspapers said on Sunday.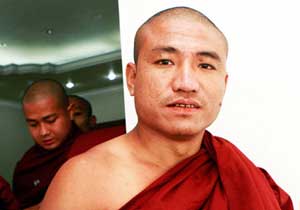 << Ashin Gambira

The reports accused him of rejoining the religious order without requesting authorisation after the Jan. 13 amnesty, of being in the Magin Monastery, which has been sealed by the government, and breaking the locks of two other monasteries.

Monks from Magin, in the eastern suburbs of the main city of Yangon, were involved in opposition activity under the military regime that ruled Myanmar for almost 50 years until a nominally civilian government took over in March last year.

The civilian government, while full of former generals, has initiated a series of political and economic reforms at a speed that has taken the outside world by surprise, although some observers remain sceptical of its motives.

Shin Gambira, 33, was a leader of the Alliance of All Burma Buddhist Monks that led a peaceful protest known as the Saffron Revolution in 2007, which the military put down with force.

The papers said the State Sangha Maha Nayaka Committee (SSMNC), the highest level of a state-sponsored Buddhist monks' organisation, had summoned Shin Gambira three times but he failed to show up, so the police were asked to bring him in on Feb. 10.

According to the newspapers, Shin Gambira had said in a statement to the SSMNC that he did not need permission to rejoin the order of monks so he would not ask for it.

The United States, which has made the freeing of political prisoners one of its conditions for easing sanctions on Myanmar imposed when the junta was in power, had expressed concern at his brief detention this month.

Shin Gambira was arrested in November 2007 and sentenced to 68 years in jail. He told Reuters after his release that he had been badly treated, both physically and mentally, during his interrogation and in jail.

In his statement to the SSMNC, Shin Gambira had also objected to the body's ordering another prominent monk, Shwenyawa Sayadaw, to leave his monastery for political activities including giving a speech at the opening of an office of the opposition National League for Democracy party of Nobel peace laureate Aung San Suu Kyi.

Aung Kyaw Kyaw, the elder brother of Shin Gambira, told Reuters on Sunday they had no news of the developments reported in the state press.

"I last met him yesterday evening. I heard he had gone to have lunch with a monk friend of his this morning," he said.

Buddhist monks have a long tradition of standing up to authorities in the country, which is also known as Burma. They were often at the forefront of opposition to British colonial rule, which ended in 1948.