Home Asia Pacific South East Asia Myanmar Myanmar Protest News


Monks Ready to Demonstrate Tuesday; Regime Ready to Crackdown
by Shah Paung, The Irrawaddy, September 16, 2007
Yangon, Myanmar -- Burmese monks released a second statement on Saturday saying monks should not accept alms from members of the military government and their supporters, starting on Monday, and called for a demonstration of monks nationwide on Tuesday.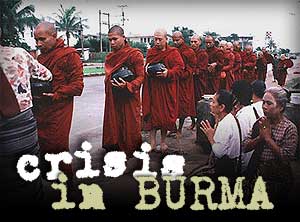 The announcement came in a second leaflet released by a group calling itself "The Alliance of All Burmese Monks." The first leaflet, released last week, demanded an apology from the junta by Monday for using violence against monks in peaceful demonstrations.

The first announcement warned authorities that monks would enact a "patam nikkuijana kamma," or refusal to accept alms, if an apology was not made.

The second statement calls for a peaceful march on Tuesday at 1 p.m. in Mandalay, Rangoon and other towns.

Monks in Mandalay were urged to march from their monasteries to Maha Myat Muni Pagoda. Monks in Rangoon were told to march from their monasteries to Shwedagone Pagoda.

Monks in other townships and villages were advised to march from their monasteries to well-known nearby pagodas.

The statement also called for an alms boycott of all members of the Union of Solidarity and Development Associaiton, Swan Arr Shin, a paramilitary group, and all government workers.

A monk at Masoeyein Monastery in Mandalay said on Sunday: "We are preparing for this [protest]. If all monks agree, we will carry on. The main thing is we have to be united."

A monk at Bawdi Mandine Monastery in Pakokku told The Irrawaddy on Sunday monks in the monastery will likely join the demonstration.

It escalates the stand-off between the highly respected Sangha, or organization of monks, and the military junta, following rising tension between the two sides.

Meanwhile, the Burmese military government has increased security in many restive towns across the country.

Observers say the stage is set for a violent confrontation between the public, gangs of thugs who support the junta and military troops.

An activist in Mandalay who asked to be anonymous told The Irrawaddy on Sunday that authorities have provided about 20 machetes to each Damayone (a gathering place for Buddhist religious purposes) that is believed to be loyal to authorities.

He said he had heard that officials told paramilitary groups that support the junta to crackdown on anyone involved in a demonstration, whether monks or ordinary citizens, by using the machetes.

He said that it appears to be a standing order, and the junta-friendly groups, made up of thugs, can exercise their discretion on how to put down protestors.

Residents in Pegu about 80 km north of Rangoon also say authorities there, including the USDA and the SAS, have been positioned at locations across the town, particularly near monasteries.

Scattered groups of thugs are said to number about 50 members each, carrying bamboo sticks and slingshots. Sources at Pegu said some members have shaved their heads and may have Buddhist robes to wear, an apparent move to infiltrate groups of monks.

Residents in Rangoon said on Saturday morning about 100,000 members of the USDA and SAS had gathered at Thuwunna Stadium in Rangoon to be briefed by authorities.

Meanwhile, local sources say Burmese security officers continue to keep a close watch on key members of the National League for Democracy in several towns of Irrawaddy Division. Some NLD members are not allowed to leave their homes.