Home Asia Pacific South East Asia Myanmar Myanmar Protest News


Nuns in Burma anti-junta rallies
BBC, September 23, 2007
Burma's rulers fear they may appear weak if protests continue
Yangon, Myanmar -- About 2,000 Burmese monks have been joined by nuns for the first time on the seventh day of protests calling for an end to the military government.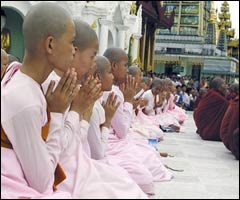 Up to 150 nuns dressed all in white joined the march from the revered Shwedagon Pagoda in Rangoon.

It came a day after the Buddhist monks were greeted by Burma's detained opposition leader Aung San Suu Kyi.

She emerged from the home where she has been under house arrest since 2003 as the monks were let through a roadblock.

The leaders of the demonstrations have vowed to continue until the collapse of the military government.

They have urged the Burmese people to hold prayer vigils in their doorways for 15 minutes at 2000 (1330 GMT) on Sunday, Monday and Tuesday.

The protests began last month when the government doubled fuel prices.

But they have taken on new momentum in the past week since the religious order became more widely involved.


In what appeared to be an unprecedented move on Saturday, guards allowed the monks to walk past the home of Ms Suu Kyi, who has spent 11 of the last 18 years in detention.

In 1990 her party won national elections, but these were annulled by the army and she was never allowed to take office.

Witnesses said Ms Suu Kyi walked out with two other women and cried as she watched the monks and prayed with them but did not speak.

Also on Saturday in Rangoon, at least 2,000 monks were watched by plain clothes security officials as they took to the streets.

In Mandalay, a monastic centre of Buddhist learning, up to 10,000 monks held a rally.

Protests also took place across Burma in the five townships of Chauk, Shwebo, Mongwa, Taung Dwin Gyi and Ye Nan Chaung.

There were no reports of any violence on Saturday.

On Friday, the Alliance of All Burmese Buddhist Monks branded Burma's military rulers "the enemy of the people" and pledged to "wipe the military dictatorship from the land".

The protests have turned into the largest public show of opposition to the Burmese authorities since the uprising of 1988.