Home Asia Pacific South East Asia Myanmar Myanmar Protest News


At least four killed, 100 hurt in Myanmar crackdown
Times of India, Sept 26, 2007
YANGON, Myanmar -- At least four people were killed and 100 injured Wednesday as Myanmar's security forces clamped down on anti-government protests led by Buddhist monks, according to officials and witnesses.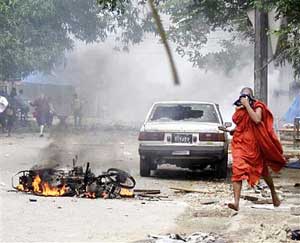 About 200 people were also arrested, as many as half of them Buddhist monks, as soldiers and police cracked down on tens of thousands of protesters who swept across Myanmar's commercial hub Yangon, according to witnesses and diplomats.

Myanmar officials said at least three monks were killed, including one who was shot as he tried to wrestle a gun away from a soldier. Two other monks were beaten to death, they told reporters.

A fourth person, who was not a monk, was dead on arrival at Yangon General Hospital with gunshot wounds, a hospital source said.

At least 100 others were injured, about half of them monks, according to a tally of witness accounts received from across Yangon.

About 200 people were arrested, according to witnesses. One western diplomat said that at least 100 Buddhist monks were among the arrests.

Monks have lead nine straight days of anti-government protests in Yangon and other cities around the country, but Wednesday was the first day that security forces tried to violently break up the crowds.

Police used batons and teargas, sometimes firing warning shots over the crowd to disperse the protesters.

But throughout the day, the protesters regrouped, returning to taunt the security forces and sometimes throwing rocks, with as many as 100,000 people in the streets around the city, according to witnesses.