Home Asia Pacific South East Asia Myanmar Myanmar Protest News


Violence in Myanmar Exposed By Satellite Images
by John Roach, National Geographic News, September 28, 2007
New York, USA -- Satellite images of eastern Myanmar (Burma) seem to corroborate reports of human-rights violations in the troubled Southeast Asian country, an international team of experts announced today.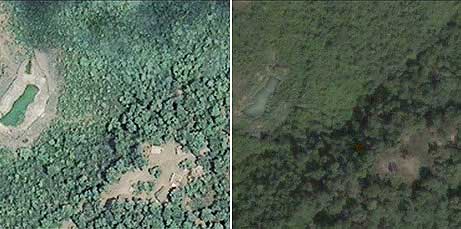 A small settlement sits among the trees in Myanmar (Burma) in a satellite image taken on May 5, 2004 (left). An image of the same site from February 23, 2007, (right) shows that all the settlement's structures have been removed and the area has been overgrown.
A detailed analysis of images spanning several years pinpoints locations where villages have been burned, settlements have been relocated, and military forces have expanded their camps.
Project participants hope that the images will force the ruling military junta to account for its practices in front of the international community.
"We are trying to send a message to the military junta that we are watching from the sky," Aung Din, policy director for the U.S. Campaign for Burma, said today in a telephone briefing with reporters.
Din's organization is one of three human rights groups collaborating with the American Association for the Advancement of Science (AAAS) on the project.
In recent days, the project team also ordered satellites to document the current military crackdown against escalating antigovernment street protests in Yangon and other cities .
The images may prove especially valuable now that phone lines and public Internet access have been shut down in the country, noted Lars Bromley, project director for AAAS.
"These images, if they come through, will be one of the few ways to really understand the level of deployment of the military regime around the cities," he said.
Abuses Documented
Myanmar became a military state in 1962 and has since frequently clashed with pro-democracy groups.
The country's Prime Minister-elect Aung San Suu Kyi—the 1991 Nobel Peace Prize winner and leader of the National League for Democracy—has been imprisoned by the military junta for nearly a dozen years.
The people of Myanmar have been largely living in poverty, experts say, and several ethnic groups have been systematically abused or displaced.
To better document on-the-ground accounts of such human-rights violations, the AAAS-led team collected images that show 31 of 70 reported incidents.
Among those, the team found 25 sites of interest, including burned villages, construction of military camps, and a blossoming refugee camp along the border with Thailand.
One set of images from November 2000 and December 2006 shows before-and-after views of a military camp that was reported to be expanding in 2006.
"Essentially, the military presence has increased heavily in the region," Bromley said. "And we did spot several new military camps in addition to significant expansion in one of the military camps."
Another set of images shows a village that was reportedly dismantled in December 2006.
An archival satellite image from May 5, 2004, shows the village intact. A second image from February 23, 2007, shows that all the structures have been removed. And an image of another site taken on June 24, 2007, shows multiple burn scars thought to represent a settlement that was reportedly destroyed in April. No matching image from before April is available.
Bromley noted that satellite imagery—which has been used for similar work in Sudan's Darfur region and in Zimbabwe—poses unique challenges in Myanmar.
Cloudy weather during the monsoon season can block satellites' views, while the region's rapid vegetation growth can quickly cover up changes to the landscape.
"In Darfur, if a village is wiped out, you are going to see traces of that village for years to come," Bromley said.
"In Burma, if a village is wiped out, it's essentially going to be grown over with that vegetation within a year or so."
Protests Squashed
The release of the satellite analysis comes at a time when Myanmar has drawn international attention due to a growing conflict between protestors and the military government.
The demonstration got underway when long-time dissidents of the military junta took to the streets on August 19 to protest a 500-percent increase in fuel prices.
Local marches swelled into record crowds when thousands of Buddhist monks joined the dissidents on September 18 (see a photo of a march in Yangon).
A government crackdown that started this Wednesday has included raids on monasteries and shots fired into crowds. The military has reported ten fatalities, although the exact death toll is uncertain.
At least one confirmed death is that of Japanese journalist Kenji Nagai, a photographer for the AFP news service. Images smuggled out of the country seem to show Nagai being deliberately shot by a military gunman.
As of today, the streets of Yangon were reportedly quieter as the government succeeded in restricting the monks to their monasteries. The country's Internet and telephone services have reportedly been shut off.
Several countries, including the United States, have condemned the crackdown and imposed economic sanctions against Myanmar's government.
Din, of the U.S. Campaign for Burma, said he hopes the newly released satellite images will increase political pressure and rally other governments—including Burma's closest ally, China—to take action.
"With this satellite imagery," he said, "at least we are able to organize international activists around the world to stand together with us to put the pressure on the Chinese government to change its policy on Burma."