Home Asia Pacific South East Asia Myanmar Myanmar Protest News


Widespread outrage unlikely to bring united international action against Myanmar's junta
The Jakarta Post, Oct 1, 2007
New York, USA -- Southeast Asian leaders delivered their strongest condemnation of a neighbor and the U.S. ordered limited sanctions, but the international community has few pressure points on the brutal military junta that has ruled Myanmar for decades.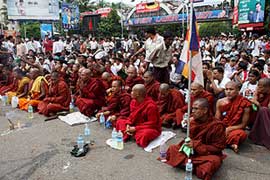 Diplomats and analysts say Myanmar's resources, including natural gas and oil fields that foreign companies are vying to tap, make many nations reluctant to impose economic sanctions or other measures as punishment for the bloody assault on pro-democracy demonstrators.

Just as important, the generals who rule Myanmar have long been steadfast in ignoring criticism and international pressure over its tough handling of dissidents, including killing thousands during a democracy uprising in 1988 and jailing Nobel peace laureate Aung San Suu Kyi.

"I don't get the sense that this regime is in the business of being conciliatory," said Derek Mitchell, an Asia expert at the Washington-based Center for International and Strategic Studies.

But many governments are feeling public pressure to act on Myanmar, which is also known as Burma. Demonstrations against the junta were staged around the globe Friday, in Washington, New York and San Francisco, in Britain and Italy, in Japan, Malaysia, Indonesia and the Philippines.

A "Support the Monks' Protest in Burma" group, set up on the Internet's Facebook site, has seen more than 110,000 people join in just nine days, its British organizer, Johnny Chatterton, said.

U.S. President George W. Bush already imposed sanctions on key leaders in the Myanmar regime and world leaders at the U.N. General Assembly denounced the crackdown in which the government admits to 10 deaths though opposition groups say up to 200 people were killed.

"Clearly the government of Burma, the regime there, is facing a population that does not want to suffer quietly under its rule anymore," State Department spokesman Tom Casey said Friday.

The Association of Southeast Asian Nations, which has traditionally been extremely restrained in criticizing human rights abuses in Myanmar, one of its member states, issued its sharpest-ever condemnation of the regime, calling the crackdown "repulsive."

"ASEAN (is) appalled to receive reports of automatic weapons being used and demands that the Myanmar government immediately desist from the use of violence against demonstrators," a joint statement said.

It called for the regime to release all political detainees, including Suu Kyi, and open a process of national reconciliation.

Also, Japan announced Saturday that it lodged a protest with Myanmar over the death of Japanese journalist Kenji Nagai, 50, who was among at least nine people killed Thursday when soldiers fired into a crowd.

Diplomats said Western nations are mostly limited to condemnation because they don't have extensive economic ties with Myanmar, and thus little influence. They predicted the countries that do have investments there would not support any punitive actions.

Among them are Russia, India, China and smaller Asian nations, including the island-state of Singapore, which is America's strongest ally in Southeast Asia. China is the largest single investor in Myanmar and its projects include a pipeline delivering gas to its energy-hungry south.

"The leaders of Myanmar know full well that whatever they do domestically, they will never face comprehensive sanctions simply because very important members of the U.N. Security Council are opposed to such a move," said an ASEAN member's ambassador to the U.N., who agreed to discuss the sensitive issue only if not quoted by name.

China and Russia, both veto-wielding permanent Security Council members, argue that Myanmar's unrest an internal affair and not a matter that affects international peace and security.

Still, U.N. diplomats said China is growing worried that the violence in Myanmar could produce so much instability that Chinese interests could be hurt.

In an indication of China's anxiety, it joined the 14 other Security Council nations in expressing concern at the bloodshed and urging Myanmar's rulers to exercise restraint and accept a visit by U.N. special envoy Ibrahim Gambari.

China's step drew praise from French Foreign Minister Bernard Kouchner, who said he perceived "a little movement coming from the Chinese government" on dealing with the junta. He said China is among "those who can do something to influence the behavior of Myanmar."