Home Asia Pacific South East Asia Myanmar Myanmar Protest News


Security Council to meet to consider action against Myanmar
AFP, Oct 8, 2007
New York, USA -- Faced with mounting world outrage over violence in Myanmar, the UN Security Council was to meet Monday under pressure to quickly condemn the military regime for crushing pro-democracy protests.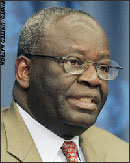 << Ibrahim Gambari

The 15-member body was to weigh a draft statement that would condemn "the violent repression of peaceful demonstrations" by Myanmar's rulers, urge them to "cease repressive measures" and release detainees as well as all political prisoners, including opposition leader Aung San Suu Kyi.

The non-binding text, drafted by the United States, Britain and France, was submitted Friday to the full council after members heard a report from UN emissary Ibrahim Gambari on his recent mission to defuse the crisis.

But despite worldwide protests in support of Myanmar's embattled pro-democracy movement, the draft was likely to be toned down at the request of China, Russia and possibly Indonesia, diplomats said.

Meanwhile, Myanmar's state press on Sunday trumpeted the release of hundreds of monks and demonstrators ahead of the security council's meeting on the junta's crackdown.

The New Light of Myanmar newspaper said that more than half of the 2,171 people arrested after the biggest anti-government protests in nearly two decades had been released, repeating figures given late Saturday on state TV.

But army trucks remained stationed at Yangon landmarks Sunday, including by the Sule and Shwedagon Pagodas -- rallying points for last month's demonstrations.

The United States has threatened to push for UN sanctions against Myanmar's ruling generals, including an arms embargo, if they refuse to halt their crackdown and to cooperate with Gambari's mediation for national reconciliation.

But any sanctions resolution was likely to face resistance and possibly a veto from China and Russia, who deem the turmoil in the southeast Asian country an internal matter that does not represent a threat to regional or international peace and security.

Last January, China and Russia used a rare double veto to block a US-sponsored draft resolution that would have called on Myanmar's rulers to free all political detainees and end sexual violence by the military.

A Western diplomat said that council experts would try Monday to work out an amended version of the text which would then be submitted to their ambassadors for approval.

Unlike a resolution, a so-called presidential statement requires the consent of all 15 members to be adopted.

The Western sponsors said they expected approval in the coming days.

On Friday, Gambari said that Council unity was "key to really getting Myanmar authorities to move along the lines that we all want, which is a peaceful, democratic Myanmar, with full respect for human rights."

He also said that all council members agreed that the status quo in Myanmar "is unacceptable and unsustainable" and backed his plan to pay a return visit to Myanmar before mid-November "in order to keep the momentum, which we must not allow to slip."

China, which has close ties with Myanmar and favors constructive engagement with its military regime, has however warned that putting pressure on the junta "would lead to confrontation."

China's UN envoy Wang Guangya Friday urged the council to adopt "a prudent and responsible approach."

"If the situation in Myanmar takes a worst turn because of external intervention, it will be the people of the country who will bear the brunt," he said.

Gambari also noted that council members agreed that Myanmar's partners in the Association of Southeast Asian Nations and regional powers such as China, but also India and Japan have a key role to play in defusing the crisis.

But council members face intense pressure for tougher action from public opinion as well as from human rights groups.

Yvonne Terlingen, head of Amnesty International's UN office, called on the council to agree "a strong statement expressing its deep concern about continuing human rights violations and calling on the Myanmar authorities to take immediate concrete action to protect human rights."