Home Asia Pacific South East Asia Myanmar Myanmar Protest News


Crackdown Could Haunt Myanmar Junta
By DENIS D. GRAY, AP, Oct 7, 2007
BANGKOK, Thailand -- Myanmar's "saffron revolt" has been crushed by an entrenched junta, but the brutality inflicted on Buddhist monks who braved its guns may be the only thing that could splinter the ranks of its fiercely loyal military.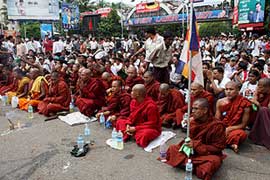 As Myanmar's prisons fill with monks and other demonstrators and the bloodstains of revolt are expunged from the streets, many in Myanmar fear they might never see the return of democracy.

The Southeast Asian nation formerly named Burma has witnessed British colonial domination, a fleeting era of democracy and 45 years of iron-fisted military rule.

Yet the monks are deeply revered in this mostly Buddhist nation, and imprisoning them upsets the faithful, no matter what their occupation or political bent.

"The crackdown by the military against the monks may be a major element in the destruction of the very military unity they seek. Many may be profoundly disturbed by the actions of their colleagues," says David Steinberg of Georgetown University, an author of several books on Myanmar.

The beating and mass arrests of the monks, who led pro-democracy demonstrations last month across the country, struck at the junta's greatest fear — that factions within its ranks may side with those seeking change.

And that side showed unexpected strength. The world was caught by surprise at the determined, organized and wide-ranging opposition that sprang up in the last two months.

Drawn in by graphic images of the crackdown, governments around the world responded with unprecedented condemnation, some sanctions and calls for neighboring China and India, major trading partners of Myanmar, to use their leverage on the junta.

Given the past record, however, neither outside pressure nor possible talks between the junta and opposition leader Aung San Suu Kyi are likely to have significant effect on the intransigent leaders.

But the military, in trying to woo a hostile people, has constantly trumpeted an image as Buddhism's protector, building new pagodas, repairing monasteries and offering alms to monks.

"Buddhism has been a critical element in this legitimacy process. But all of a sudden you have delegitimization of a lot of that effort," Steinberg said.

One faithful Buddhist summed up common sentiment after emerging from a pagoda in Yangon last week.

"If the military kill monks, merciful monks, they are not Buddhists, they are savages," the retired teacher said, speaking on condition of anonymity because of fear.

Others unleashed their hatred of the regime by screaming abuse and even exposing their genitals to soldiers.

"Terror reigns in Rangoon (Yangon) now, but anger is there also and it's not going away," says Monique Skidmore, a Myanmar expert at Australian National University. "The pro-democracy movement sees this as the beginning of the end (of the junta), even if it takes 10 years."

Red-robed monks, university students, labor activists, ordinary people and remnants of Suu Kyi's National League for Democracy party all took part in the protests.

"A new generation has emerged of people we have never heard of before. Even if this new movement has been suppressed now, it's not been decapitated, so it may rise again," says Donald M. Seekins, a Myanmar expert at Meio University in Japan.

However the movement shapes up, activists may again have to face the army's guns alone.

Experts, including some Chinese academics, say even Beijing has limited influence over the generals, never mind the United Nations.

"China's soft spot would be a boycott of the Olympics next year. That's something they definitely don't want," says Seekins. "I don't see the American team not going to Beijing, but if there is a boycott movement it would be very embarrassing to China."

Chinese security experts tasked with studying risks to the 2008 Beijing Olympics believe chances of a boycott over Myanmar, Darfur, Tibet or other issues are slim because governments and world leaders are resistant to the idea. President Bush, for one, has already accepted the Chinese president's invitation to attend the games.

World pressure on the junta to hold talks with Suu Kyi, a Nobel Peace Prize winner under house arrest for 12 of the past 18 years, also shows little promise.

Following last week's trip by U.N. special envoy Ibrahim Gambari to Myanmar, the junta chief, Senior Gen. Than Shwe, said Thursday that he would be willing to meet with Suu Kyi, but only if she stops calling for sanctions.

However, the two already met five years ago and those talks broke down in acrimony.

"I don't believe there is one shred of evidence that they (the junta) are sincere," says Josef Silverstein, a retired Rutgers University professor who has studied Myanmar for more than half a century. "(Than Shwe) is still the commander and she's expected to come crawling to him on her belly."