Home Asia Pacific South East Asia Myanmar Myanmar Protest News


An interview with Maung Thara
by Ken Ilgunas, ArtVoice, Oct 17, 2007
Buffalo, NY (USA) -- Tucked away in a humble retirement complex on the West Side of Buffalo is 77-year-old Burmese refugee and prominent author Maung Thara. A prolific writer, Thara has published more than 60 novels and 300 short stories since the 1950s, including Standing in the Road, Sobbing, which won the Burmese national book award in 1970. In 1988 his books were banned for content deemed controversial by the Orwellian regime that remains in power today.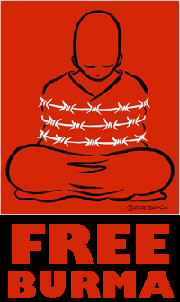 When four students were sentenced to seven years in prison for carrying one of his books, Thara decided it was time to escape the country before he met a similar fate. In 1998, he sneaked over the Thailand border and was, from there, relocated to Buffalo in 2000 because, as Thara explains it, he recognized the name "New York."

Despite his relative obscurity in Buffalo, he remains an iconic figure in his home country. Known for his characteristic bald head, which he still diligently grooms, Thara has a presence in the growing Burmese community in Buffalo, acting as an interpreter for new arrivals.

His apartment is notably plain except for some exotic linens and a brass Buddha statuette atop a bookshelf that also holds his novels translated into Japanese, Chinese and Hindu. Though he may fit the profile of an ascetic living out his twilight years in peace and quiet, Thara is as loud and outspoken as ever.

Thara's dedication to exposing the realities of life in Burma has made him a celebrity among his countrymen. Today, his popularity gives him an outlet to export opinionated radio broadcasts from Buffalo to listeners in Burma on Radio Free Asia, an American-based, nonprofit broadcast corporation.

Since Artvoice's cover story on Thara in 2000, he's boomeranged from California back to the Queen City, citing the inhospitable Pacific climate as the main reason for his move back north. In addition to his radio commentary, he keeps himself busy writing a new story, Smiling and Nodding. Thara spoke with Artvoice last week about his exile, his country and the recent protests there:

Maung Thara: I am one of the most popular writers in my country and one of the most influential in the literary field. That's why I was exiled from the country. Our profession does not like to lie. We are big mouths. We will talk frankly to everybody about what is on our mind. We want to write. What's the meaning of writing? To communicate, to let other people know what we know. That's the writing business. We don't want to lie. We don't want to hide. We must be honest with the public, with the audience.

I broadcast to Burma about twice a week. Whenever I talk on the radio, some Buddhist monasteries hang up big speakers on the trees. The people listen in secret because you cannot listen in public. You could be arrested. The monasteries are not afraid of the government.

I talk sometimes about culture and sometimes about politics and sometimes about my travels in America. That's what they want to hear. Nowadays I talk more about politics. On the radio, sometimes I talk in Burmese, sometimes in Pali. Pali is an ancient language used by Buddha in his days about 2,500 years ago. I talk in Pali because most of the monks know it. Now the government is accusing me of giving indirect advice because I am talking in Pali, which most of them don't know. I also talk about Buddhist literature, which is against the government.

[The protestors] shouldn't use any signs or slogans against the government. They should just walk along the streets and recite the Buddhist teachings in Pali. That's peaceful. Don't throw a stone or frown at [the police]. Just walk the streets headed by the Buddhist monks. Some people are so angry, and when they come into a crowd, they cannot control themselves.

[The government] is doing evil things which are against the religion; every religion, not only Buddhism. They are killing, stealing, raping, all sorts of things. The government of Burma is accusing me in the two Burmese newspapers. They wrote an article about me calling me a "stupid fellow," that I have American dollars, and that I'm a mouthpiece of America. I don't get any dollars from the government. No wait, I am a SSI [Supplemental Security Income] recipient. [He laughs.]

Thara talks in choppy, terse English sentences, but there's a sagely wisdom in his tired eyes that tells a richer story than his simple language can convey. He lists a series of health problems from which he suffers but he bears a youthful joviality, and an impassioned inner-vitality is detectable when he speaks of Burma's plight. When he ruminates on how his eight children have suffered because of his fame, he becomes morose and reflective.

Maung Thara: Most of my family members are now in America because they were also tortured and were arrested several times after my departure from the country. My daughter and my son were fired because of me. Whenever I talked on the radio, they accused my children that the news was given to me by them. They were tortured and interrogated several times. [My kids] couldn't bear to stay in the country anymore so they left the country one by one.

Over the years, Burmese exiles like Thara and his children have been steadily mixed into the city's melting pot. Unlike Thara, most of his countrymen are uneducated and come to America without the necessary skills to thrive. They've spent a great part of their lives in refugee camps where modern amenities are unavailable.

The refugees are directed to Buffalo by national agencies to local organizations such as the International Institute, Journey's End, Catholic Charities and Jewish Family Services—together forming a loose coalition called Western New York Refugee and Asylee Consortium. Hundreds of Burmese refugees have filtered through these organizations that guide incoming families through what is sometimes a harrowing resettlement process.

Maung Thara: [The Burmese government] burned the village, they killed the cattle, they burned all the food and evicted them from the country and told them to move to Thailand because they want this place for military strategy. Then they have to go to a refugee camp across the border and they will stay there for six, seven years and they will come here. Those people are here in Buffalo.

Once I was called by one of my friends and a mother with two children, 11 and eight. The Karen woman—she couldn't speak Burmese or English—got cold and sick at night. I was called and told to help. She is lying on the mattress. They were given three mattresses, one for each of them, but those mattresses were put together in the same room and they'd sleep together—all three of them. They had been given some frozen meat and they didn't know how to cook it.

In another case, socks and shoes were given. It was cold and there was one foot of snow outside. The woman said, "No, that's not necessary. We're used to it. We lived on the hills."

Thara speaks like a man confident in his convictions, and who relishes in fulfilling his sense of civic duty. He vows to return to Burma if democracy is instituted, and although he's not sure in which lifetime it will come, he's certain that change is imminent.

Maung Thara: Everybody will die one day. I came to the world alone and I will go back to the world alone. You, me, the same thing. You don't know when we are going to die. We don't know how we are going to die. We don't know anything. But as a Buddhist I believe in reincarnation so if I do good things I'll be good in the next life. Every people and every country like change. According to Buddhist philosophy there must be change. People like change.