Home Asia Pacific South East Asia Myanmar Myanmar Protest News


Myanmar protest monk jailed for seven years
Reuters, Oct 17, 2007
YANGON, Myanmar -- A Buddhist monk has been jailed for seven and a half years for taking part in mass protests against Myanmar's military junta which the army put down ruthlessly, a monastic source said on Wednesday.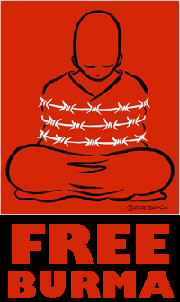 Eik Darea, 26, was the first monk known to have been sentenced for his part in protests led by monks in several cities around the former Burma, the source said. He was also defrocked and could end up in a labour camp.

Eik Darea was sentenced by a district court in Sittwe, the capital of the northwestern state of Rakhine where there was a spate of protests, although on a smaller scale than in Yangon, where thousands of monks led the demonstrations, the source said.

"He was arrested in Maungdaw, on the Bangladesh border. He was forced to leave holy orders and sent up for trial at a closed court in Sittwe," the source said.

"He was charged with inciting public unrest and illegal association. I'm so sorry he might be sent to a labour camp."

Other sources said there were other monks in Rakhine jails who were also expected to face trial.

"Manhunts are still going on in Rakhine State. Some are still on the run. Some are missing," one said.

Official media said nearly 3,000 people had been arrested since the army ended the protests earlier this month and all but 468 were released.

Critics of the junta, the latest in 45 years of military rule, say the real figure is likely to be much higher.

There has been no word yet of closed trials in Yangon, where soldiers raided more than 20 monasteries, taking most of their monks into custody, in the early stages of the crackdown.

But nighttime raids are still going on despite United Nations special envoy Ibrahim Gambari, now touring Asia in search of support for a united front to persuade the generals to talk to the opposition, urging an end to raids and arrest "at once".

He issued that plea on Monday, the same day the New Light of Myanmar, the junta's main mouthpiece, declared the generals would not be moved from their policies.

On Tuesday, relatives said five members of detained democracy icon Aung San Suu Kyi's National League for Democracy were jailed for up to seven and a half years on similar charges to Eik Darea, also in trials closed to the public.