Home Asia Pacific South East Asia Myanmar Myanmar Protest News


Crackdown could not be avoided, junta minister tells monks
by Kumar Sarkar, Merinews, October 25, 2007
Yangon, Myanmar -- Myanmar's Religion Minister, for the first time in more than two months, after the uprising by Buddhist monks has told the clergy that the crackdown was unavoidable and they must understand this. He accused rogue monks for masterminding the mass protests.

<< A month after the Myanmar junta ruthlessly crushed protests by monks and people, its Religion Minister told senior monks that the action was unavoidable. He apologised that some monks were caught in the dragnet.

Religion Minister, Brigadier General Thura Myint Maung, told senior members of the Buddhist clergy in Myanmar this "during a rare speech to monks ahead of one of Myanmar's most significant Buddhist holidays, the New Light of Myanmar newspaper said," reports AFP.



"I would like you to understand the fact that we had to unavoidably take preventative measures," the minister was quoted as saying.

"Because we cannot let any situation take place that harms (Buddhist principles) and the nation, authorities were forced to act against 'bogus monks who organised and incited' others to move against the government," he said.

Monks in Myanmar took to the streets after 88-generation student leaders, who started the demonstrations against an unprecedented hike in fuel prices, were rounded up. In the days that followed crimson robed monks thronged the streets in former capital Yangon followed by thousands of activists and people in what was the biggest demonstration in the country after the 1998 uprising which was ruthlessly crushed. The movement snowballed into a demand for the junta to relinquish power and usher in democracy.

Soon the protests spread across Myanmar. The junta known for its high handedness pressed in the army, the police, intelligence agencies and its sponsored organisation Union Solidarity Development Association (USDA) to crackdown on the protesters towards the end of September. Officially 13 people, including monks were killed when troops opened fire. Thousands were detained. Democracy activists believe many more were killed.

The Religion Minister was said to have apoligised that some monks were caught up in the government's sweep against protesters, saying 'some monks were questioned
unavoidably.' But he denied that any monk had died, and urged senior religious leaders to instruct younger monks not to do anything that would perpetuate the unrest.

The junta minister also blamed US President George W. Bush for manipulating Myanmar's monks, AFP said.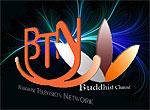 Get your Korean Buddhist News here, brought to you by BTN-Buddhist Channel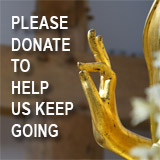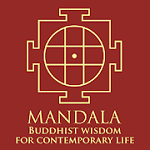 The Mandala app brings together Buddhist wisdom and meditation techniques with the latest insights of psychology and neuroscience to handle the challenges and complexities of modern life. The App offers a series of engaging talks and conversations with experts on a wide variety of topics, such as managing stress, dealing with adversity, developing greater resilience, cultivating empathy and compassion, creating healthy relationships, and many more. These topics are explored to help find greater peace, meaning and joy in our lives. Our panel of experts include Dr, Thupten Jinpa, Daniel Goleman, Kelly McGonigal and others.FREE DOWNLOAD here

Point your feed reader to this location


Submit an Article
Write to the Editor