Home Asia Pacific South East Asia Myanmar Myanmar Protest News


Monk who aided protest marches escapes Burma
By Thomas Fuller, International Herald Tribune, October 26, 2007
Disguised dissident flees to Thailand
MAE SOT, Thailand -- One of the main organizers of the September protest marches in Burma, Ashin Kovida, a 24-year-old Buddhist monk, escaped to Thailand last week by carrying a false identification card, dying his hair blond, and wearing a crucifix.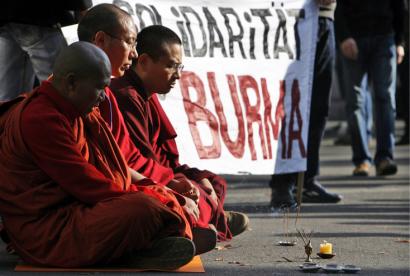 << Burmese monk Ashin Kovida (center) prayed for his compatriots with Tibetan monks during a rally to show their solidarity with the democratic movement on Oct. 13 in Zurich. (Alessandro Della Bella/Keystone/ASSOCIATED PRESS)

Yesterday, Ashin Kovida offered details of his harrowing escape and insights into what has remained a central question about the September protests: Who organized the orderly lines of saffron-robed monks who marched through Rangoon - and how.

Ashin Kovida crossed the border to Thailand illegally and said yesterday that he was planning to request refugee status. He is wanted by Burma's military government, which accuses him of storing explosives in his monastery in Rangoon, the largest city in Burma. He called that accusation absurd.

In a six-hour interview in this border town, he painted a picture of a group of 15 monks in their 20s who organized the demonstrations.

Kovida said he had been elected leader of the group and had been inspired by videos of the popular uprisings in Yugoslavia against the government of Slobodan Milosevic.

The group received financial help from three well-known Burmese dissidents - an actor, a comedian, and a poet - but did not receive any foreign assistance during their protests, Ashin Kovida said.

Eight of the 15 monks in his organizing committee are missing, and the other six are hiding in Rangoon, he said.

In a separate development yesterday, prodemocracy leader Aung San Suu Kyi met for a little more than an hour in Burma with a government official appointed to act as a liaison with her, the Associated Press reported.

Suu Kyi, a Nobel Peace Prize recipient, has been under house arrest for 12 of the past 18 years. State television showed pictures of her and government minister Aung Kyi seated in high-backed chairs having a discussion, a scene suggesting two dignitaries in a meeting.

It was the first known meeting between Suu Kyi and the retired major general who was appointed to the post Oct. 8 to hold talks with her.

The general is expected to coordinate Suu Kyi's contacts with both the regime and the United Nations, which is seeking to end the political deadlock between democracy advocates and the junta.

Ashin Kovida led daily antigovernment protests through Rangoon from Sept. 18 through Sept. 27, the day after the authorities began raiding monasteries.

The uprising was sparked by warning shots fired at monks by the police Sept. 5 in the central Burmese city of Pakokku.

"The first time I heard the information, I was speechless," Ashin Kovida said. "It was an unbelievable thing."

His fellow monks were outraged and looked for ways to respond. They decided to disengage themselves completely from the government, refusing all alms, support, and contacts.