Home Asia Pacific South East Asia Myanmar Myanmar Protest News


Dhamma VCDs by Two Well-known Monks Banned in Burma
by Wai Moe, The Irrawaddy, Nov. 16, 2007
Rangoon, Burma -- Dhamma VCDs by two of Burma's respected senior monks, which are interpreted as critical of the junta's brutal crackdown on the monk-led demonstrations, have been banned by authorities, according to Rangoon sources.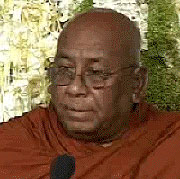 << U Nyanithara

The two monks, U Nyanithara and U Kawvida, are well-known for their Dhamma talks [Buddhist teachings] to laypeople.

"Normally all Dhamma cassette tapes or VCDs are sold at shops across the country," said a Rangoon resident. "But we cannot buy these recent VCDs at shops because authorities banned them. But you know it's the IT age. So the VCDs are copied and delivered person-to-person."

One Rangoon resident told The Irrawaddy on Friday that U Kawvida called the Burmese junta the second "Azartathet" [Azartathet is an infamous villain who killed his father for power in Buddhist stories]. U Kawvida is abbot at Mizzima Gon Yee Monastery in Rangoon.

The monks' dhamma talks, recorded on VCDs, are based on classic Buddhist stories, but the meaning of the words are interpreted by laypeople as critical of Snr-Gen Than Shwe and the junta, in part because the talks were given shortly after the country-wide protest demonstrations.

U Kawvida, a Buddhist PhD scholar, said in his VCD that the worst disease is hunger, and if people are poor and hungry, it is a universal truth that they will explore. According to one layperson who saw the VCD, the story was saying that if a government causes people to be poor and hungry, it is natural for people to protest and demonstrate. His most recent Dhamma talks were in Rangoon and Magway.

Another senior monk, U Nyanithara , also known as Thitagu Sayardaw, spoke before laypeople in Myingyan in central Burma. In his VCD, titled "The Way of Dumb People," he criticized people who are guided by numerology and astrology. One layperson said the story was critical of Snr-Gen Than Shwe, who is famous for basing important decisions on his astrologer's advice. A second VCD is titled "The Ending of the King."

U Nyanithara openly talked about democracy in many Dhamma talks following the 1988 uprising, and his democracy dhamma tapes were popular among Burmese. He is active in humanitarian work and well-known for his water supply projects, known as Thitagu Water Donations. He has helped establish Buddhist groups in the US, Canada, Australia and in Europe.