Home Asia Pacific South East Asia Myanmar Myanmar Protest News


How Many Monks were Killed in the Pro-democracy Uprising?
by Saw Yan Naing, The Irrawaddy, Nov 19, 2007
Rangoon, Burma -- The death of an abbot, the Ven. U Thilavantha of Yuzana Kyaunghtai Monastery in Myitkyina, is the most recent evidence of monks who sacrificed their lives for the pro-democracy uprising, renewing the question: How many monks died as a result of the demonstrations?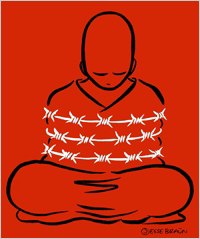 A Sri Lanka-educated Buddhist scholar, U Thilavantha who served as teacher to about 200 student monks, was arrested on September 25. He died in Myitkyina Hospital on September 26 from injuries he received when he was beaten by soldiers and security forces, according to Thailand's Mae Sot-based Assistance Association for Political Prisoners (Burma).

However, authorities forced a pathologist to record the cause of death as heart disease, said the AAPP.

The regime's newspaper, The New Light of Myanmar, earlier reported that 10 protesters were killed in the demonstrations and that no monks were hurt.

However, the generals recently told UN human rights investigator, Paulo Sergio Pinheiro, that 15 demonstrators were killed during the September crackdown.

The AAPP says that so far it has confirmed 18 protesters died during the crackdown, based on information it has recorded, including names, age, parent's names, arrest dates, date of death and addresses.

Aung Kyaw Oo of the AAPP said, "In our confirmed list, about 70 monks are now being detained, one is missing and one has died so far. But, we estimate that around 100 protestors, including about 10 monks, were killed."

Aung Kyaw Oo said information about the number of monks killed in Rangoon and elsewhere is sketchy and usually impossible to confirm with Burmese authorities.

"We have information, but it is hard if we ask for confirmation. Witnesses saw three dead bodies of monks floating in a river in Rangoon that were secretly taken away by authorities," said Aung Kyaw Oo.

According to sources contacted by him, he said at least three monks from monasteries in Rangoon's Thaketa Township were killed when authorities raided the monasteries on September 30.

Recently, an Arakanese monk, U Sandawara of Aung Dhamma Pala Monastery in New Dagon Township, was beaten and taken away by military-backed thugs, members of the Union Solidarity and Development Association, on November 15 when they raided the monastery.

However, despite the continuing crackdown on monks, the All Burma Monks Alliance released a statement on Sunday saying it will continue its alms boycott against the military government.

Many monks throughout the country are currently enforcing a patta ni kozana kan, refusing to accept alms from members of the armed forces and their supporters, the statement said.