Home Asia Pacific South East Asia Myanmar Myanmar Protest News


Burmese monks flee to Bangladesh to evade arrest
by Nyein Chan, Mizzima News, December 11, 2007
Rangoon, Burma -- A Buddhist monk from Rangoon's Zathilaryama monastery, who took part in the September protests, fled from the manhunt launched by the Burmese military junta and arrived in Cox's Bazaar, Bangladesh.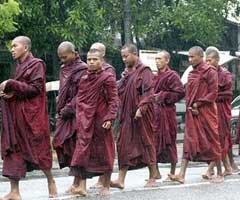 Ashin Panyathami, a young monk from the Zathilaryama monastery in Rangoon, fled to Bangladesh along with more than 20 fellow monks, following the junta's relentless search to arrest and detain monks and protesters.

"As the authorities launched widespread search operations, more than 20 monks, had to hide near the Moe Yeik River for three days. After that we returned to our monastery but there the soldiers called more than 20 of us for interrogation," Ashin Panyathami, who arrived Cox Bazaar on December 5, told Mizzima during an interview.

"They took our photographs and asked us whether we had joined the protests. They told us not to join up again and threatened that we would be arrested if we did," added the young monk.

After arresting the abbot of their monastery, U Zarthila at the end of September, soldiers had continued their rampant crackdown by conducting raids in monasteries and had come to their monastery several times.

The young monk, who is an ethnic Arakan, said he left the monastery in Rangoon for his native home town in Arakan State for fear that authorities would continue raids and arrests.

Along with Ashin Panyathami, several monks went back to their native hometowns. However, authorities were reportedly looking for him to arrest as he possess photographs, which he had taken at the Maha Wizeyatheindaw monastery in Rangoon.

The young monk said, he finally left Burma for Bangladesh as authorities were conducting raids in several monasteries in Arakan searching for him. The monk said, he had to hide himself for five days and nights along Kin Chyaung River , and finally crossed the border to Bangladesh.

Similarly, on October 29, U Indra Panya and U Magindar from the Alodawpyih DamaSariya monastery, who had actively participated during the recent protests, fled to Bangladesh after authorities came in hot pursuit of the duo.