Home Asia Pacific South East Asia Myanmar Myanmar Protest News


Myanmar deaths higher than U.N. estimate: activists
By Rob Taylor, Reuters, Dec 14, 2007
CANBERRA, Australia -- The death toll from a democracy crackdown ordered by Myanmar's ruling junta was much greater than U.N. estimates and scores of people were still missing, activists just back from the reclusive country said on Friday.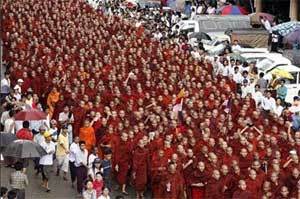 << Thousands of monks march through the Yangon city center as bystanders join in an anti-government demonstration September 24, 2007.

A delegation of Buddhist witnesses who entered Myanmar posing as tourists to document the aftermath of September's monk-led uprising said secret talks with activists pointed to a death toll of at least 70, far above United Nations estimates of 31.

"The regime is at pains to paint the situation as being back to normal, and it is anything but, because there is so much pressure and security," Australian delegate Jill Jameson from the Buddhist Peace Fellowship told Reuters.

The crackdown on peaceful protests -- the biggest since 1988 -- drew international condemnation and provoked calls for more sanctions on the isolated country once known as Burma.

U.N. special rapporteur Paulo Sergio Pinheiro this week said at least 31 people were killed when Myanmar's military rulers tried to suppress the demonstrations. Official media have said only 10 people died.

Jameson entered Myanmar with two Thais and an American priest, talking to rights activists, monks, aid groups and social workers in Yangon and on the Thailand-Myanmar border.

"We were told by a reliable source that there were 70 people who were killed after the demonstrations, while they were being detained," she said. "We were told crematoriums were operating in the early hours of the morning between 1am and 4am."

The stories, she said, tallied with Pinheiro's description of corpses, some seemingly the bodies of monks, being burned in suspicious circumstances at a Yangon crematorium, in an apparent attempt to hide the number of those killed.

"An English teacher monk at a monastic school and orphanage for 500 said there were now 15 monks, 35 novices, 12 teachers and 80 resident children," Jameson said.

"Prior to September, there were 200 monks and novices who have not been heard of since their participation in the "revolution"," she said.

Before the crackdown, there were an estimated 500,000 monks and novices in Myanmar. Many are now missing, rights groups say.

Human Rights Watch this month said security forces fired into crowds using live ammunition and detained thousands of people in official and unofficial jails, citing witness reports.

Jameson's group heard bystanders who applauded protesting monks, offered water or simply stood by and watched demonstrators were arrested and held in jails for up to a month.

"Neither army, police or beggars were evident, but we heard from 'Aung Myint' that beggars and the homeless had been taken to detention centers, and that some of the army were dressed as monks and others were in plain clothes," she said.

Myanmar has been under military control since 1962. The army held elections in 1990, but refused to hand over power after being outvoted by the opposition National League for Democracy.