Home Asia Pacific South East Asia Myanmar Myanmar Protest News


Burma: Falling Back on Buddhism
By Moe Yu May, IPS, Jan 8, 2008
RANGOON, Burma -- Burma's military leaders lived up to their reputation as repressive rulers on the day this country celebrated 60 years of independence from British rule. This erstwhile capital's main road was closed for two hours on the morning of Jan. 4.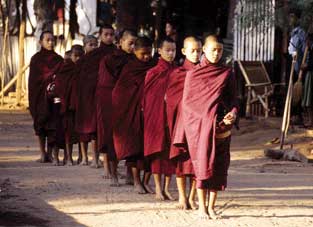 Elsewhere in this city of dilapidated colonial-era buildings, security officers in plain clothes and officials from townships were visible on the streets to monitor possible anti-junta protests. Near the Sule Pagoda road, where pro-democracy protestors had marched last September, members of the feared riot police stood guard.

It was a setting that prompted disgust in a 40-year-old Burmese university lecturer. ''I don't feel any freedom especially in these days,'' said the academic. ''A question that I keep asking in my mind is did our country really gain independence. I do really want to feel freedom.''

In mid-August last year, there were some Burmese who dared to believe that such a feeling of freedom was possible. Small protests mushroomed across the country after the junta raised the price of oil overnight by 500 percent without advanced notice. For some among the country's long-suffering public, that latest economic burden meant giving up regular meals.

By late September, this movement had expanded into a popular uprising, attracting tens of thousands of ordinary people on to the streets of Rangoon. The protests were led by this Buddhist nation's respected monks.

But then came the brutal crackdown by the junta, where armed soldiers and riot police turned on the unarmed civilians and monks. A U.N. investigator revealed that at least 31 people were killed, but anti-junta groups have said that close to 200 lives were lost. In addition, over 650 monks and civilians were arrested and thrown into jails were torture and abuse are rampant.

Yet in the three months since, there are emerging signs that such a brief flicker of freedom has not been extinguished. Rather than take to the streets to get rid of the military leaders, who have ruled this country since a 1962 coup, Rangoon's residents are doing so through the strength of Buddhist teachings, the Dhamma.

The residents have been organising Dhamma assemblies in many places to listen to sermons about morality from some of the country's prominent monks. At times, these sermons have been used by the monks to give counsel and obliquely criticise the junta. A favoured approach by some monks is to draw lessons from the life of the Buddha.

These Dhamma assemblies, which tend to run for two hours in the evening, are drawing large crowds. One held on Dec. 29 in the Tarmawe Township had attracted close to 3,000 people. Another, at Rangoon University's religious hall, drew a similar number of followers. A religious talk held in mid-December in a football field of a state high school in the Insein Township had one of the largest gatherings – close to 20,000 people.

Some of these sermons have been heard by those who could not make it to the prayer assemblies, too. That stems from a cottage industry of compact discs (CDs) that has emerged to copy and distribute some of the more spiritual and provocative sermons. The latest collection on offer in Rangoon is one of 19 Dhamma talks.

''I've been busy copying and sending out these CDs to other towns as well, though it costs me,'' one Rangoon monk told IPS on condition of anonymity.

But video compact discs (VCDs) of another kind – humour-- are also circulating within Burma. The stars here are some of the country's comedians who have been performing at festivals and fairs, a common feature of life after the monsoon ends in November. And the junta has been the subject of some of the barbs.

One of the jokes broadcast at a fair in a park in Rangoon that went down well with the public focused on the five enemies of mankind. They are water, fire, the king, the thief and a person who bears ill will towards another. On that day, a comedian added his own twist, saying: ''Now we have only three enemies left, since the king, the thief and the one who bears ill will towards another are the same.''

The junta, however, has launched a predictable counter strike to crush the spread of laughter. Permission for a public show on Jan. 3 featuring a troupe of comedians was withdrawn. This performance, which was to have been held at the Kan Taw Gyi park, had already been advertised and tickets had been printed.

Such censorship is common in a country where the military regime has gained notoriety for stamping on press freedom, jailing political opponents, and placing the country's pro-opposition leader, Aung San Suu Kyi, under house arrest for over 12 years. The Burmese military has also been condemned by the international community for compelling ethnic minorities to do forced labour, for using rape as a weapon of war and for interfering with humanitarian programmes.

But if the dhamma assemblies and CDs in circulation serve as an indicator, it points to a growing anger against the junta that no amount of oppression would be able to wipe out. There are some political activists who say that this anger could boil to the surface this year, in a repeat of what happened in September last year, or in a different form.

The junta, however, is taking no chances. ''A military truck has been parked near our monastery since New Year and soldiers are on duty in the area,'' said a monk who lives in Rangoon.