Home Asia Pacific South East Asia Myanmar Myanmar Protest News


Mandalay Monks Launch Anti-referendum Poster Campaign
by WAI MOE, The Irrawaddy, March 4, 2008
Mandalay, Burma -- Buddhist monks in Mandalay in upper Burma on Monday launched a harshly worded poster campaign urging a "Vote No" against the government's referendum on a draft constitution, said sources close to the campaign.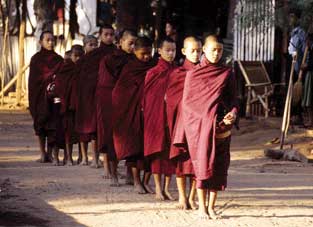 << Buddhist novices walk to collect alms and offerings in Rangoon.
(Photo: AFP)

Meanwhile, the All Burma Monks Alliance earlier issued a hard-hitting statement ridiculing the referendum, the election and the regime.

Teams of volunteers have put up anti-regime posters in Amarapura Township in Mandalay, a monk who asked not to be identified told The Irrawaddy on Tuesday.

"The posters say the current situation is more important than 'a fire on your head,'" he said. "If your head is on fire, only you will die. If you endorse the constitution, the next generation will also die."

The posters warn people not to endorse the draft constitution for the sake of children, he said. The posters were put up in at least six locations in Amarapura Township, including several monasteries and Yadanapon University.

The posters call the junta's leader, Snr-Gen Than Shwe, "Killer Than Shwe" and say the draft constitution is a plan to colonize citizens under military rule. The posters also say, "Free Burma!" and "Free Daw Aung San Suu Kyi!" said the source.

"We don't accept a colonizing constitution," the posters proclaim. "We should reject the constitution in the referendum. We should bury our fear."

In a separate poster campaign in other townships in Mandalay, posters urged monks to boycott the official examinations held by the government.

"Monk activists called on other monks not to participant in the government-organized monk examinations which are scheduled to be held this month," said a monk in downtown Mandalay. He said only about 20 percent of the eligible monks have registered for the examinations.

Earlier, the All Burma Monks Alliance (ABMA), a group of anonymous monks who played a leading role in the September pro-democracy uprising, released a statement on February 11 condemning the junta's decrees (1/2008 and 2/2008) calling for a referendum on the draft constitution in May and a general election in 2010.

The ABMA said the decrees were unjust because the regime has failed to honor the 1990 election results. A tripartite dialogue between the junta, the main opposition parties and ethnic groups is the only way to achieve true national reconciliation, said the statement.

"We condemn the junta decrees because they wipe out people's desires and prolong the military rule in the country," the statement said.

Another influential group of monks, the Sasana Moli International Burmese Monks Organization, also issued a statement criticizing the referendum and election, and calling for national dialogue. All political prisoners, including the democracy icon Aung San Suu Kyi, should be released, the statement said.