Home Asia Pacific South East Asia Myanmar Myanmar Protest News


Myanmar's monks still seething, but lack leaders
By Ed Cropley, Reuters, March 11, 2008
MANDALAY, Myanmar -- Beneath the veneer of serenity and religious devotion, Myanmar's maroon-robed Buddhist monks, the engine of the protests six months ago against the ruling junta, are seething with rage.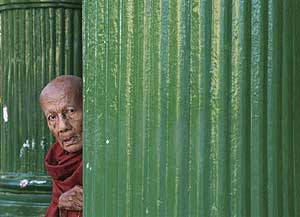 Some talk impetuously of revolution. Others even say they are ready to lay down their lives in a repeat showdown between the monkhood, the former Burma's highest moral authority, and the raw might of the military.

But pro-democracy campaigners and even some monks admit the regime's bloody crackdown on the September marches has broken the clandestine network that, albeit briefly, turned the country's 500,000 Buddhist monks into a potent political force.

Even the approach of the numerologically auspicious August 8, 2008 -- the 20th anniversary of the brutally suppressed 8-8-88 anti-junta uprising -- looks unlikely to precipitate another challenge to 46 years of unbroken army rule.

"There are no plans being made because most of the active monks are in prison or have fled," a leading member of the pro-democracy underground told Reuters at a safe house in Yangon, the former capital.

Among the 80 people the junta says it is still holding after the protests are 21 monks, including 27-year-old U Gambira, a leader of the All-Burmese Monks Alliance which played a prominent role in the marches.

Human rights group Amnesty International said in January that 700 people arrested in the crackdown remained behind bars.

TINDER-BOXES

Despite the arrests, the southeast Asian nation's monasteries, some of which are home to as many as 3,000 mainly young men at any one time, remain political tinder-boxes that could re-ignite at the slightest provocation.

At least 31 people were killed when the junta sent in troops to crush the marches in September, but this United Nations death toll does not include any monks, despite reports of several beaten to death when soldiers stormed monasteries in Yangon and elsewhere.

Dissident Web sites also posted pictures of mutilated corpses of what appeared to be monks, spurring the deepest possible outrage amongst clergy and lay people alike.

No monks interviewed by Reuters in the religious centres of Yangon, Mandalay and nearby Sagaing said they had lifted their ban on accepting alms from members of the military junta or their families.

Known as "patam nikkuijana kamma" or "turning over the alms bowl" in Pali, the ancient language of the Theravada Buddhist priesthood, the 2,500-year-old rite is similar to the Christian notion of excommunication and is taken very seriously.

It can be rescinded at any moment if the perceived wrong-doers apologise and mend their ways -- something the generals have steadfastly refused to do.

"If they do not apologise, we will start our movement," a young monk from the coastal city of Sittwe told Reuters, claiming to lead a network of 1,000 monks and students wanting an end to falling living standards and galloping inflation.

"People are getting angrier and angrier. Their suffering is worsening day by day and they cannot tolerate it any more," he told Reuters at a secret location in Yangon.

"If there is another uprising, the soldiers will shoot to kill and there will be another bloodbath. But I am prepared to go to prison or be killed."

Others have no more stomach for a fight.

"I hope it doesn't happen again. The country is peaceful now," one Mandalay monk said.

MONASTERIES RE-FILLING

Although many monasteries were closed at the height of the crackdown and thousands of monks disappeared either to prison or back to their home towns and villages, most have been allowed to reopen.

However, three dissident establishments in Yangon remain locked and in Mandalay, Myanmar's religious heart, monks at several large monasteries said numbers were 20-30 percent lower than before the crackdown.

The junta has also called in scores of senior abbots, telling them to keep in check their young charges.

"Our abbot told us not to protest again. He told us that they'll shoot and we'll die. What can we do? We have no arms," a 23-year-old at a large Mandalay monastery said. "But if we get the chance, we will do it again. This government is no good."

In the central town of Pakokku, where heavy-handed treatment of monks by soldiers and pro-junta thugs in early September triggered the nationwide monastic revolt, the regime appears to be taking steps to ensure against a repeat.

Regime agents are undercover in the monasteries and a reviled local gang leader known as "Mr. 2 by 1", after the 2-inch thick wooden baton with which he beat monks and protesters, is behind bars to avoid inciting protests, one resident said.