Home Asia Pacific South East Asia Myanmar Myanmar Protest News


A year after protests, monks silenced in Myanmar
Agence France-Presse, Sept 21, 2008
BANGKOK, Thailand -- Even in the confines of Myanmar's notorious Insein prison, stripped of his robes and the rituals of his Buddhist monastery, Gambira's voice still resonates through the dark corridors.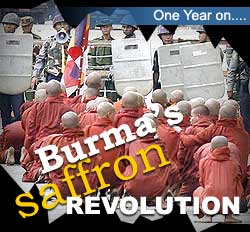 The 28-year-old monk became famous one year ago for his broadcasts on shortwave radio, using his soft voice to deliver a powerful message: "Let's break down the wall of dictatorship."

Thurain was among the more than 3,000 people arrested for answering Gambira's call to take to the streets against Myanmar's military regime.

He was released earlier this year and told Agence France-Presse (AFP) that he saw Gambira and a dozen other monks inside the prison, where they recite prayers in their cells.

Gambira, like other monks who have been derobed and detained at the prison in the country's main city Yangon, is allowed only 15 minutes of exercise to walk outside of his eight-by-eight-foot cell.

Thurain had never seen him before, but he knew the voice right away.

"I knew his voice from the radio," said Thurain. "It's very soft. But his look is different -- he looks very strong and he's still young."

"I miss the voice of my young monk, especially this month," Thurain said.

The protests by Buddhist monks in September 2007 caught the military, and the world, by surprise.

The first march on August 19 was led by pro-democracy activists, gathering a few hundred people to protest an overnight hike in fuel prices that left many in this impoverished country unable to afford even bus fare.

That protest was quickly dispersed and its leaders arrested, but the spark was lit.

On September 5, hundreds of Buddhist monks in the religious centre of Pakokku protested to draw attention to the economic plight of the people.

Soldiers fired warning shots, but instead of fear, they were met with defiance. The monks took 20 security officials hostage in a monastery, in a standoff that lasted for hours.

They demanded an apology from the military, and greeted the regime's silence with new protests in cities around the country.

The first march in Yangon came on September 18, and met cheers from bystanders who thronged the streets to watch.

Emboldened by the public support, four days later the monks marched to the home of democracy leader Aung San Suu Kyi, who defied the terms of her house arrest by tearfully greeting the crowd at her gates.

That iconic moment opened the floodgates, and by September 25 more than 100,000 people were following the monks through the streets of Yangon.

When the military finally decided to crack down the next day, they opened fire on crowds -- beating monks in the street during the day and raiding their monasteries at night.

A Japanese journalist was shot dead at pointblank range on September 27 as security forces stormed the streets.

The nation's revered monks fled their monasteries, and most still remain empty one year later.

"At first we thought that soldiers in a Buddhist country wouldn't hurt us, but that wasn't true. They beat us, they shot us. They harassed us just like everyone else," said Sarsana, a monk in his 40s who joined the protests.

As the anniversary of the crackdown nears, security has again tightened around Yangon.

After dark, soldiers seal off entire streets to practice crowd control techniques. In Sarsana's neighborhood, which is home to more than 40 monasteries, the roads are closed every night.

"Soldiers come with two military trucks and patrol the area from 9:00 pm. It's like we are living under monastery arrest," he told AFP.

"Politics is not our priority. We can't rule the country, but we want to stand up for the many people who are living in fear, to stand up for our hope that the country will change," Sarsana said.

Now there is little sign of any renewed protest against the military, which has ruled since 1962. The junta's crackdown, which left at least 31 dead and 74 dead according to the United Nations, has left the nation shrouded in fear.

Sarsana watches international TV news through an illegal satellite dish, looking for any sign of movement in Myanmar.

"We don't know what will come after the monks' protest, but we are still keeping that spirit in mind," he said.