Home Asia Pacific South East Asia Myanmar Myanmar Protest News


The lonely death of Cycle Maung Maung
By Norman Robespierre, Asia Times, Sep 25, 2008
YANGON, Myanmar -- Although the Buddhist monks and thousands of ordinary citizens who marched in last September's "Saffron" revolution seemed powerless against its brutal suppression by the Myanmar military junta, the cautionary tale of one belated casualty hints that karmic retribution may yet prevail. This is the story of Maung Maung.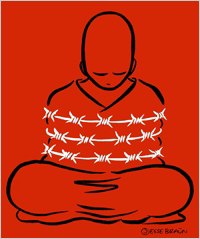 Maung Maung passed away late last year while just in his late 40s, leaving behind a wife and a couple of grown children. Premature deaths are hardly news in Myanmar, which consistently ranks at the bottom in global health care rankings. But Maung Maung was not an ordinary citizen; and his was not an ordinary death.

Unlike most Myanmar citizens, Maung Maung was an ardent supporter of the military regime, known as the State Peace and Development Council (SPDC). He befriended policemen and soldiers and dutifully attended pro-regime rallies. He became a member of the "Swan-ar-Shin", a civilian extension of the regime's uniformed forces that assists in controlling the populace.

Maung Maung's ties with the police and loyalty to the regime brought him some perks. One was that he could drive a motorcycle in Yangon, a privilege reserved for a select few, mostly military, police and intelligence officials, and Maung Maung wore the privilege as a badge of honor. He was often seen on his motorcycle, earning him the moniker, "Cycle Maung Maung" from his neighbors in the dusty working-class Paukan ward of Insein Township.

Aside from the motorcycle, catchy nickname and the modest wage of a Swan-ar-Shin member, Maung Maung received other special considerations from the authorities. Cell phones were issued to select Swan-Ar-Shin, a benefit beyond the reach of most ordinary citizens, and one Maung Maung conspicuously enjoyed. Approval for a new cell phone line can take months and cost over US$2,000, a hefty sum in a country with a gross domestic product per capita of only $1,900.

The selective enforcement of the law in favor of regime supporters allowed him to avoid the difficulties and bribes that others without strong government connections habitually endure. He avoided forced conscription into work parties for road repair and other manual labor often demanded by the authorities from ordinary citizens.

He also readily received recommendations from the ward and township that, among other things, allowed his family members to apply for phone lines and receive the necessary police certification to process paperwork through the bureaucracy - recommendations that others would find nearly unobtainable without an obligatory bribe.

These benefits did not come without a cost, however. Cycle Maung Maung was, as a member of the Swan-ar-Shin, frequently required to carry out orders in support of the regime. In September 2007, as part of the regime's combined force to suppress popular demonstrations, Cycle Maung Maung found himself in the middle of the government's battle against protesting monks. He and other Swan-ar-Shin members in civilian clothes and armed with clubs and truncheons formed a rank immediately behind policemen wielding police batons and riot shields.

Immediately behind the Swan-ar-Shin was the backbone of the force, soldiers with automatic weapons and sharpened bayonets. While numerous police in the front ranks, because of their Buddhist upbringing, hesitated to physically engage the monks, the politically motivated Swan-ar-Shin and members of the army - perhaps believing themselves to be true defenders of the nation - were more eager to attack.

Whether Maung Maung shared the reluctance shown by some police officers to charge the crowd or whether he eagerly plunged into the fray is unknown. What is known is that the regime's efforts to quell the protests turned violent, fatally so. Police, army and the Swan-ar-Shin engaged the peaceful protestors with fists, kicks, batons and, in some instances, bullets. According to people from his neighborhood, Cycle Maung Maung, armed with a baton, brutally battered a monk, who later died.

Karmic justice

There are no official accounts of the violence, and if there were, it's unlikely Maung Maung would have ever been tried or convicted in Myanmar's military-controlled courts. Nobody has ever been brought to trial for the government-orchestrated attacks on hundreds of unarmed pro-democracy demonstrators in 1988, or the assault on opposition icon Aung San Suu Kyi's motorcade and her supporters that left scores dead in 2003.

The violent act widely attributed to Maung Maung, however, propelled him from local obscurity. People from his neighborhood said his notoriety even gained international stature through a satellite television news clip which apparently showed him beating Buddhist monks. Overseas Myanmar activists based in South Korea who saw the footage promised justice for the "monk beater" should they ever gain power.

At home, notoriety brought social isolation. In fervently Buddhist and often superstitious Myanmar, he was viewed by neighbors who spoke with this reporter as a pariah for allegedly killing a monk. His social network quickly deteriorated to immediate family and other ardent supporters of the military regime, whose numbers grew even scarcer following the outrages against the monks.

Neighbors in his district found it difficult to comprehend how a fellow Buddhist could kill an unarmed monk. Rumors spread to explain his alleged actions: he was possessed by a demon, or the regime gave drugs to the police, soldiers and Swan-ar-Shin to make them more violent and the narcotics fueled Maung Maung's cruelty. True or false, his neighbors avoided him and few set foot into his house after the Saffron revolution crackdown.

But Cycle Maung Maung was not ostracized for long. Nearly six weeks after he killed the monk, either tormented by guilt or, as neighbors believe, haunted by ghosts, Cycle Maung Maung fell ill. He felt dogs biting him and yelled at them to leave him alone; those who were by his bedside saw no dogs.

According to his neighbors, in the middle of the November night before Cycle Maung Maung died, screams were heard from his house. He cried out, "M'kou net!" "M'kou net!", which translates as, "Don't come for me! Don't come for me!" The next morning he was found dead in his bed.

There were no marks on his body and there was no readily apparent cause for his death, according to those familiar with his last earthly night; his neighbors assume his demise was related to his alleged slaying of the Buddhist monk.

His family sought monks from the local monastery to perform traditional rites and ceremonies for his cremation and seven days after his cremation, but the monks at the monastery would not preside. The family tried in vain at several other monasteries, but Maung Maung's notoriety was too widespread.

After days of searching, the family finally found monks from a monastery in a distant township willing to perform the ceremonies, apparently because they were unaware of his history. Unlike most Myanmar funerals, which are attended by virtually the entire neighborhood, Cycle Maung Maung's funeral crowd was sparse.

He died a lonely soul, based on the accounts of his passing and the isolation he endured during the last month of his life.

While Cycle Maung Maung's death didn't bring back the life of the monk he purportedly murdered, it did have a positive upshot. In a land where the population lives under institutionalized injustice, those aware of the circumstances surrounding Cycle Maung Maung's passing sensed that karmic justice had prevailed.

One year after the government's brutal crackdown on Buddhist monks, there at least remains faint hope that the same karmic force that some believe took Maung Maung's life will eventually also visit SPDC Senior General Than Shwe and other senior members of his military regime.

------------------------------
Norman Robespierre, a pseudonym, is a political scientist specializing in Southeast Asian affairs. He may be reached at normanrobespierre@gmail.com.