Home Asia Pacific South East Asia Myanmar Myanmar Protest News


Myanmar sentences Buddhist monks to more than six years in prison
DPA, Nov 13, 2008
Yangon, Myanmar -- A Myanmar court has sentenced five Buddhist monks who participated in last year's Saffron Revolution to six and a half years in prison each, relatives said Thursday.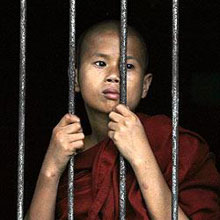 Insein Prison's Special Court on Wednesday sentenced Zar Naya, Agga Dhama, Wila Theka, Nanda and Ei Dayiya to six and a half years in jail for unlawful assembly, participating in illegal associations, inducing crimes against public tranquility and committing disaffection towards the state and government.

All five monks formerly belonged to the Ngwe Kyar Yan Monastery, a popular temple in Yangon which backed the monk-led anti-government protests in September 2007, that ended in a brutal crackdown that left more than 30 people dead, about a hundred missing and thousands in prison.

The five monks were arrested on November 24, 2007, with 10 other monks when the monastery was raided by security forces. They were sentenced in a closed-door trial without their defence lawyers, and relatives are not allowed to appear in court.

Another monk, 39-year-old Ven Ashin Saddhamma from Twan Tay was sentenced to 19 years imprisonment in connection with 2007 September protests.

The monks' long prison sentences were the latest in a spate of court verdicts against anti-government activists apparently designed to sweep the country of dissent prior to a planned general election in 2010.

"They will charge whoever opposes them with a long time in jail," said said Aye Thar Aaung secretary of the Arakan League for Democracy (CRPP).

On Tuesday the same special court sentenced 14 activists, all well-known members of the 88 Generation Students Group, to 65-year prison terms, and labour activist Su Su Nwe was sentenced to 12 years and 6 months in prison.

All 15 defendants played a key role in the anti-government protests of August and September last year that were eventually taken up by Myanmar's Buddhist monks, earning the movement the name Saffron Revolution.

On Monday, the same prison court sentenced popular internet blogger Nay Myo Kyaw, who was better known by his blogger alias Nay Phone Latt, to 20 years and six months in jail.