Home Asia Pacific South East Asia Myanmar Myanmar Protest News


Burmese Junta Bars Monks from Traveling Abroad
By MIN LWIN, The Irrawaddy, June 15, 2009
Rangoon, Burma -- Burma's Ministry of Religious Affairs is effectively prohibiting Buddhist monks from traveling abroad by refusing to issue letters of recommendation, according to senior monks in Rangoon.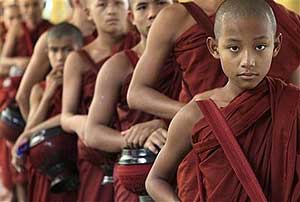 << Burmese monks and novices wait in line for their meal to be served inside a monastery at the outskirts of Rangoon. (Photo: AP)

Without a letter of recommendation from the ministry a monk cannot apply for a visa to travel to a foreign country.

A monk from a monastery near Rangoon's revered Shwedagon Pagoda said that Rangoon's religious department stopped issuing the letters last week.

"There are currently several monks in Rangoon who are waiting for visas but who have been refused letters," he said, adding that young Burmese monks often travel abroad for Buddhist study, especially to India and Sri Lanka.

Another source said that two Buddhist monks were recently barred from flying by authorities at Rangoon's Mingaladon International Airport because, although they had foreign visas, they did not have letters of recommendation from the government.

A monk who asked to remain anonymous told The Irrawaddy on Monday that the officials at the religious affairs department had denied his application for a letter, even though he was seeking to go abroad for health purposes.

"The officials said the restrictions were orders passed down by a senior military general," the monk said.

When The Irrawaddy asked an official from the Ministry of Religious Affairs about the matter, he refused to comment.

The military government tightened restriction on Buddhist monks traveling within Burma during the monk-led uprising of August-September 2007.

On September 27, 2007, the military government crackdown turned bloody and dozens of monks were forced to flee their monasteries to escape arrest. It is thought many fled the country at that time.

According to official data, there are more than 400,000 monks in Burma, and its community, the Sangha, is considered one of the strongest and most revered institutions in the country.