Home Asia Pacific South East Asia Myanmar Myanmar Protest News


Myanmar's monks under close watch
By Joel Chong, Asia Times, Sep 24, 2009
BANGKOK, Thailand -- "I'm being watched all the time. I am considered an organizer. Between noon and 2 pm, I am allowed to go out of the monastery. But then I'm followed," Buddhist monk U Manita said, referring to stepped up government repression of the Buddhist clergy in Myanmar. "We don't want this junta. And that's what everyone at my monastery thinks as well."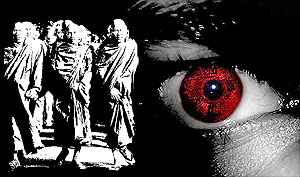 "Traditionally, we monks are not supposed to be politically active. The military has ruled our country for more than 40 years, and they don't care about the welfare of the people; they care only for themselves and their relatives, and how to remain in power forever. That was why the people rose up against them", said U Pannacara, a 27-year-old monk, referring to street protests in 2007.

These are just two of the many monks' voices heard in "The Resistance of the Monks: Buddhism and Protests in Burma", a new report issued by the New York-based Human Rights Watch this week to coincide with the second anniversary of the monk-led "Saffron" revolution in Myanmar.

Two years ago this month, crimson robes flooded the streets of Yangon and Mandalay as thousands of Buddhist monks marched defiantly against Myanmar's military junta. In certain instances, bystanders formed human shields to protect the venerated monks from security force attacks.

The 2007 protests were sparked mainly by the ruling State Peace and Development Council's (SPDC) decision to remove fuel subsidies that sent prices of diesel and petrol, bus fares and other items soaring, adding to the already hard times from the previous year that saw prices of basic goods rise by 40%.

After protests that started in August 2007 were violently suppressed by security forces in September, more than 1,000 monks had been arrested and detained, according to the HRW. Hundreds of them were tortured in government custody, writes the report.

Myanmar's monks continue to be the subject of suspicion, restrictions and infiltration by a military wary of their organization, clout and moral authority in this mainly Buddhist country of 54 million people.

A total of 237 monks remain imprisoned across Myanmar's 43 prisons and 50 labor camps, according to the Thailand-based Assistance Association for Political Prisoners (AAPP), which assists political prisoners and their families in Myanmar. Many were arrested while protesting on the streets or during violent night-time raids on monasteries across the country.

"It was quite a pivotal moment in modern [Myanmar] history when the monks started marching on the streets," David Mathieson, HRW's Myanmar consultant, said at the report's launch at the Foreign Correspondents Club of Thailand.

"Buddhist monks in [Myanmar] are not just one of the key institutions in the country. They are in some senses a barometer of social ideals. They take to the streets, they become public actors, when things get so bad that they can't stay silent."

In a country where monks are widely revered and wield huge influence, the history of the Buddhist clergy, or Sangha, in Myanmar has been marked by revolutionary and radical movements that catalyzed various events of national importance, such as Myanmar's struggle for independence from the British and anti-military protests in the 1970s and 1980s. "They are probably the most powerful institution after the military in the country," Mathieson said.

There are about 400,000 monks in 45,000 registered monasteries across Myanmar, according to HRW. Bertil Lintner, the author of the HRW report and a Myanmar expert, said that "exactly how many [monks] went home [after the September 2007 protests], we don't know". He added, "Many of the monks fled and they disrobed themselves to disguise the fact that they were monks on the run." Dressed in plain civilian clothes, a number were reported to have escaped either by fleeing east toward the Thai border or west toward India.

While compiling the HRW report, Lintner, who has three decades of experience reporting on Myanmar, interviewed monks near the Thai border who had managed to escape from prison. One monk he interviewed escaped by riding a bus to the border.

"At the checkpoint before the border he jumped out and pretended to be a busboy, tearing tickets and changing gears. The bus driver was fully aware of what was going on but he played along. They don't check the drivers' and the busboys' [identification] and he managed to get through, and he finally crossed the border and lived there."

The junta has in recent days tightened its watch over the Buddhist clergy. Exiled Burmese media reported that on August 22, the Sangha League issued a statement saying it was working with 14 other political groups to plan a third boycott against the military, similar to the one launched during the 2007 uprising.

Meanwhile, the junta is known to have planted monks in monasteries to gather information about their sentiments and plans. "They want to show that 'look, we are here and keeping an eye on you','' added Lintner. "The monasteries are heavily infiltrated by informants."

Since the 2007 protests, government attempts to officially register monks have also intensified. "There's just more and more background checks on whether the monks have any affiliations or ties with political organizations," said Mathieson. "That is by its nature an intimidating process, basically warning monks not to get involved in any kind of political activities."

Sermons of abbots and senior monks are also coming under more scrutiny, and monks returning to Myanmar from overseas are sometimes arrested and interrogated, he added. Monasteries have also been warned not to be so visible and many have been shut down in different parts of the country, according to Lintner.

Only three of the 7,114 prisoners released as part of a mass amnesty last week were Buddhist monks, according to AAPP's Bo Kyi. Only 122 of those released were considered to be political prisoners, exiled Burmese organizations claimed.

Monks released from detention often find their situations changed. "Some monks find it very difficult to return to their monastery as some of the monasteries are reluctant to accept those who have been released from prison," Bo Kyi told Inter Press Service. "They have to find out themselves where they can stay."

Last week's amnesty announcement was notably made before Myanmar Prime Minister Gen Thein Sein's trip to New York to attend the United Nations General Assembly meeting, which he is expected to address on September 28. While it's still unclear if Myanmar's monks intend to take new action against the military regime, analysts say that dissent continues to simmer below the surface as the government prepares for elections in 2010.

"The monks can never be the leaders of a political-social movement, [but] they can be the catalyst ... They showed that very clearly in September [2007] when they showed up at [detained pro-democracy leader] Aung San Suu Kyi's house and showed her 'we're here, but you are the leader'," said Lintner. "It doesn't matter what the military do to the monks. They are still monks in their hearts, and they will continue being that."