Home Asia Pacific South East Asia Myanmar Myanmar Protest News


Burmese Junta Bans Dhamma Advertising
By ARKAR MOE, The Irrawaddy, December 16, 2009
Rangoon, Burma -- Burmese authorities have banned the public display of posters in Mandalay advertising dhamma talks by monks.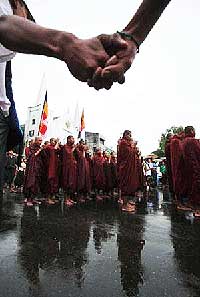 The ban was issued through the Sangha Maha Nayaka Committee, the state-sponsored Buddhist monks' organization.
Dhamma talks are a deeply rooted tradition in Burma, and posters advertising them usually carry pictures of the monks who give them.
A monk from Pyigyi Ta Kun township, Mandalay Division, told The Irrawaddy on Monday: "I think the military regime wants to stop people listening to the teachings of dhamma. People are angry about the ban."
The authorities have also banned individual monks, such as Shwe Nya War Sayardaw, the dean of Shwe Nya War Buddhist University in Rangoon, from delivering dhamma talks.
A monk who studied at the Buddhist University told The Irrawaddy on Monday: "Shwe Nya War Sayardawgyi was banned from giving dhamma talks in Rangoon last year because he spoke about Bogyoke (General) Aung San and the essence of independence."
Aung Htet Lin, who helps organize dhamma talks, told The Irrawaddy on Monday: "We have to apply to the Burmese authorities and the Sangha Maha Nayaka Committee in advance. We have to list the name of the sangha, the title of the dhamma and the place and time it will be delivered."
In another restriction on Buddhist religious activities in Burma, the Ministry of Religious Affairs has stopped issuing letters of recommendation, which monks need to travel broad.
Ashin Issariya, a founders of the All Burma Monks' Alliance (ABMA), said: "It is clear that the military junta is challenging Burmese monks and Buddhist devotees. The junta doesn't want monks to be popular, well-known or close to the people."
Ashin Issariya said the restrictions were an insult to monks and would have a "bad effect" on the country and its people, leading to more conflict.
Mandalay resident Min Ye Aung, who also helps organize dhamma talks, said the authorities were also limiting the space allotted for the talks with the aim of reducing the number of people attending them.
In October, the ABMA expelled junta leader Snr-Gen Than Shwe from the Buddhist faith on the grounds that he had failed to issue an apology for his abuse of monks and the religion of Buddhism.
According to official data, there are more than 400,000 monks in Burma, and its community, the Sangha, is considered one of the strongest and most revered institutions in the country.