Home Asia Pacific South East Asia Myanmar Myanmar Protest News


Junta Putting Pressure on Buddhist Clergy: Clinton
By LALIT K JHA, The Irrawaddy, November 18, 2010
WASHINGTON, USA -- The Burmese military junta continues its tight control over the activities of Buddhist monks and discriminates against religious minorities, US Secretary of State Hillary Clinton said on Wednesday.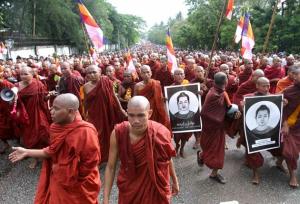 "In Burma, the government continues its tight control of the activities of Buddhist clergy and discriminates against minority religious communities," Clinton said in remarks on the release of the annual State Department report on religious freedom.

"The release last Sunday of Aung San Suu Kyi is a positive step. However, there are more than 2,100 political prisoners in Burma, including many monks and other religious figures," Clinton said.

The report identifies Burma as one of the eight countries that have been designated as countries of particular concern.

"Those eight countries are Burma, China, Eritrea, Iran, North Korea, Saudi Arabia, Sudan, and Uzbekistan," said Michael Posner, the assistant secretary of state for Democracy, Human Rights and Labor.

"We are now reviewing that process separate from this report. This report states the facts. Now, we're going to have an internal process where we evaluate these, and in the next couple of months, we will designate countries going forward that are on this list," she said.

The International Religious Freedom Report 2010 by the State Department said the Burmese government imposed restrictions on certain religious activities and limited freedom of religion, although generally permitted adherents of government-registered religious groups to worship as they chose.

Noting that there was no change in the government's limited degree of respect for religious freedom during the reporting period, the report said religious activities and organizations were subject to restrictions on freedom of expression, association and assembly.

"The government continued to monitor meetings and activities of virtually all organizations, including religious organizations and required religious groups to seek permission from authorities before holding any large public event," the report said.

The Burmese military rulers continued to systematically restrict Buddhist clergy efforts to promote human rights and political freedom, it said, adding that many of the Buddhist monks arrested in the violent crackdown that followed pro-democracy demonstrations in September 2007, including prominent activist monk U Gambira, remained in prison serving long sentences.

According to the report, the Burmese government also actively promotes Theravada Buddhism over other religions, particularly among ethnic minorities.

"Christian and Islamic groups continued to struggle to obtain permission to repair places of worship or build new ones. The regime continued to closely monitor Muslim activities. Restrictions on worship for other non-Buddhist minority groups also continued," it said.

Although there were no new reports of forced conversions of non-Buddhists, authorities in some cases influenced placement of orphans and homeless youth, preferring Buddhist monasteries to Christian orphanages in an apparent effort to prevent Christian groups' or missionaries' influence, it said.

Adherence or conversion to Buddhism was an unwritten prerequisite for promotion to senior government and military ranks. All senior level officers of the ruling State Peace and Development Council (SPDC) and the armed forces are Buddhists, it said.

The report said during the reporting period, social tensions continued between the Buddhist majority and the Christian and Muslim minorities.

"Widespread prejudice existed against citizens of South Asian origin, many of whom are Muslims. The government continued to refuse to recognize the Muslim Rohingya ethnic minority as citizens and imposed restrictions on their movement and marriage," it said.

Meanwhile, senior US Sen. Mitch McConnell, on Wednesday urged the Burmese rulers to ensure that the release of Aung San Suu Kyi is permanent.

"Make no mistake, the release of Suu Kyi is a positive step forward in Burma. Yet it is only the first—and by no means the final—step that must take place in that beleaguered country," he said in a statement.

"While fellow advocates of democracy in Burma rightly rejoice in her being freed, our feelings of joy and relief are tempered by several sobering concerns," he said.

"First, there is the matter of her safety. We all remember the brutal attack against her in 2003. That must not be permitted to happen again. Second, we know Suu Kyi has been released in the past only to be later detained on trumped-up charges. We want her release to be permanent, not temporary. Third, although she was granted unconditional release, it remains to be seen whether the regime will tolerate her active participation in public affairs," McConnell said.