Home Asia Pacific North Asia S/N Korea News & Issues


Seeking the core of Korean Buddhism
by By Cho Chung-un, The Korean Herald, May 25, 2012
Seoul, South Korea -- For Sem Vermeersch, associate professor of religious studies at Seoul National University, this year means a lot.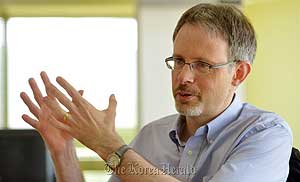 << Belgian-born professor says Jogye Order's rigid stance has left internal conflicts unresolved
The Belgian scholar, one of the leading academics in Korean studies, has been studying ancient Korean Buddhism for 20 years, particularly during the Goryeo Kingdom (918-1392) which was strongly attached to the political system of the time.
Speaking with The Korea Herald at his office at Kyujanggak, a former royal library of Joseon at SNU that currently houses an extensive collection of Korean historical documents, the humble scholar says he has a long way to go.
"There is a Chinese saying that learning is like pedaling against the stream. This means that once you stop learning because you think you have achieved a lot, you will go back to the starting line," Vermeersch said.
"I feel that I am only beginning to understand Korean culture, language and complicated interpersonal relationships. It is really difficult to understand someone's 'nunchi' or mood."
Fluent in several languages including English, Chinese and Korean, the professor has been opening the eyes of both Korean and foreign students to the fascinating world of Buddhism in medieval Korea and has contributed to developing the subject at an international level. The professor has been coordinating academic exchanges among scholars around the world on Korean studies for years.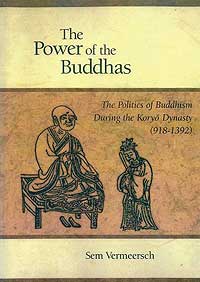 He has published a number of studies and books in English that offer a deeper understanding of Korean history and culture for international audiences. Vermeersch is also the author of "The Power of the Buddhas: The Politics of Buddhism During the Koryo Dynasty" published by Harvard University Asia Center.

Born in 1968 in Belgium, Vermeersch took Chinese studies as his undergraduate course at the University of Ghent and pursued the subject further at Anhui Normal University in China.

It was a statue of a Bodhisattva in China that captivated the young student, who was studying Chinese Buddhism some 20 years ago. The statue of a Korean Buddhist saint ? Kim Kyo-gak, a son of King Sungdok of Silla Kingdom who became a Buddhist monk and was revered as a reincarnation of Jijang (the bodhisattva Ksitigarbha) in China ? instantly steered his academic journey to Korea.

"The story of the Korean monk who came to China and earned that high position as a foreign Buddhist fascinated me," he said.

The following year, he decided to study Korean at the Academy of Korean Studies in Seongnam; but because all the courses were in Korean only at that time, he communted to SNU every day to take the language program. At that time, he could never have imagined himself teaching students there 20 years later.

It was Goryeo Buddhism that he decided to focus on ? the religion that supported the legitimacy of the state, not only for spiritual reasons.

"People especially in the West think Buddhism is something free and only for individual, inspiration, liberation practice," he said.

"(There was a) rigid system of testing monks' knowledge. Based on how they do on the test, they would get a place in a temple. And that seems to go against the spirit of Buddhism but on the other hand it gave them a very high status in society," he added.

Vermeersch also wanted to go beyond the basic knowledge of Goryeo as a Buddhist state and demonstrate that the relationship of the two went further than people think.

"Everybody knows Goryeo was a Buddhist (state). But actually nobody has written what exactly Goryeo Buddhism was about and how far the Buddhists' influence can go in society, politics and so forth," he said.

With his dedication to the study of Goryeo Buddhism, he earned a doctorate at the School of Oriental and African Studies at the University of London.

From 2002 to 2003, with the support of the Korean Foundation, an academic and cultural arm of the Ministry of Foreign Affairs and Trade, he worked as postdoctoral research associate at the Korea Institute, Harvard University.

Married to a Korean whom he met in London, Vermeersch returned to Korea in 2003 as a visiting researcher at the Academia Koreana, Keimyung University. He joined the faculty of SNU in 2008.

"I'm honored to teach at SNU. But I'll focus on what I can do best here, not just for the name of the school," he said.

The professor who has translated a Korean book on "Seowon," private Confucian academies established during the Joseon Dynasty, is currently working on translating the 12th century document "Goryeo Dogyeong," a book on Goryeo, written by Seo Geung, who was a Sung envoy to the Goryeo Kingdom. He plans to expand his research on Korean Buddhism into the Joseon period by studying the founder of Joseon, Lee Seong-gye.

"Lee gained the power with the support of Confucian scholars but he wasn't a Confucian scholar at all, he was a devoted Buddhist. (It represents) a kind of paradox ? very anti-Buddhist Confucians supporting the Buddhist ruler. I think that paradox was never completely resolved in the Joseon period," he said.

When asked about the Jogye Order, South Korea's largest Buddhist order, being embroiled in a gambling and prostitution scandal, the professor said the order's "rigid stance" has locked itself to old convictions and failed to embrace social transformation, new ideas and calls for change.

"This is not really new because when I first came to Korea in the early '90s you had this conflict between progressive and conservative monks. And it is very unfortunate for the image of Korean Buddhism," he said.

Early this month, a Buddhist monk released video footage showing monks gambling, drinking and smoking at a hotel. He also accused the Most Ven. Jaseung, president of the Jogye Order, of procuring prostitution in 2001.

Vermeersch said the root of the conflict goes way back to sometime right after Korea's liberation from Japanese colonial rule in 1945. Nearly 90 percent of the Buddhist monks then were married ? an influence of Japanese Buddhism ? and the minority of non-married monks who later founded the Jogye Order condemned them as corrupt.

The controversy over married monks continued but the Jogye Order's idea of representing the genuine orthodox tradition has hindered it from embracing any changes and challenges, he said.

"The Jogye Order has locked itself into a certain position based on its interpretation of historic events, and has become a hostage to that. And now you have these problems emerging, it is totally opposed to the high standards we have come to expect of celibate monks," he said.

"They could have taken a more liberal stance, or a more open-minded stance. It would have been easier to accept some of the transgressions that sometimes people commit. Because they have taken a very rigid stance, it is harder to deal with these problems," he added.

The Jogye Order, on the other hand, has made some progress in re-defining its position by engaging more in social welfare promotion in a modern Korean society dominated by Protestant churches. There is also young generation of Korean monks like Ven. Haemin and Jeongyul who have started to speak out, he said.

"They were the first ones that had a wider media appeal on how Buddhist ideas can contribute to society. So that is why it is a pity that you had this case recently of gambling monks because it seemed to be a throw back to the past," he said.

The professor also added that Koreans need to learn more about Korean traditions before trying to get international attention on its cultural assets.

"I am always shocked about their ignorance of Buddhism. People seem to be scared to learn about religion, like they would look as if they are to be converted," he said.

Citing the concept of religious literacy developed by Boston University professor Stephen Prothero, Vermeersch said, "It is really important for people to read about religion, otherwise you won't understand the culture."