Home Asia Pacific North Asia S/N Korea History & Archaeology


Jikji Buddhist documents - A question of ownership
By Lee Eun-joo, Joong Ang Daily, January 12, 2009
History displaced: The Jikji Buddhist documents. France refuses to return the Jikji documents that Korea wants back

Seoul, South Korea -- On a summer's day in 1955, Park Byung-seon, a dreamy young Korean girl, boarded a plane for Paris.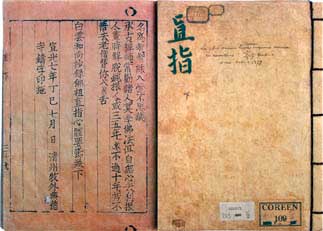 << Jikji, the world's oldest extant movable metal print book, is currently kept at the National Library of France. [JoongAng Ilbo]

She was a graduate student from Seoul National University's history department and had been given the opportunity to continue her education in France.

After arriving, Park devoted herself to studying French and observing the country's school system. She had a plan to establish a private school when she eventually returned to Korea.

Little did she know then that she would become a lifelong resident in France as a historian.

After more than a decade living in Europe, Park was offered a job at the National Library of France in Paris. She didn't refuse the offer because at that time she was writing her doctoral dissertation. If she worked at the library, she would be able to take out the necessary books at no cost.

But there was one other reason why she accepted the job. She remembered what her Korean professor had said before she left for France.

Before her flight, he told her that many cultural properties were taken out of the country by French troops during the French invasion of Korea in 1866.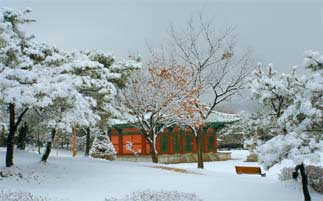 Jikji was printed at Heungdeok Temple in Cheongju, North Chungcheong, in 1377.[JoongAng Ilbo]

>>


Little was known about what had happened to these lost relics. The professor told Park that as a history major, she should try to find out more information, a task she began working on in the library. During her first year working part-time at the National Library, Park discovered an original volume of a long-lost Buddhist book.

It was called "Anthology of Great Buddhist Priests' Zen Teachings."

The Jikji, as it is known, was written in the late Goryeo period by the Buddhist monk Baegun (1289-1374).

The book contains excerpts of Buddhist teachings on Seon, or Zen (the more common term used outside Korea), Buddhist sermons, conversations, letters and literary writings.

The gist of the two-volume book is that if you look at a person's heart through the practice of Zen, you will realize the meaning of Buddha. By putting the information together, Baegun had hoped the book would guide students and followers of Buddhism.

Copies of the Jikji were printed and distributed at major Buddhist temples and followers. While the second volume is at the library in France, there is no trace of the first volume anywhere.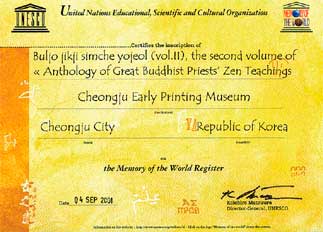 << A document that approves Jikji's inclusion in Unesco's Memory of the World project, in 2001. Provided by the Early Printing Museum

Ownership of Jikji, which was printed at Heungdeok Temple in Cheongju, North Chungcheong, in 1377, is mired in controversy. France says it should remain in Europe but Koreans want it returned.

Jikji is the world's oldest extant book published using movable metal printing method.

It's older than Germany's Gutenberg Bible, printed in 1455, which was previously thought to be the oldest document of that type.

Park, 81 and currently living in France, presented the book at an international book fair in Paris in 1972.

On Sept. 4, 2001, Jikji was formally added to Unesco's Memory of the World.

The Jikji Memory of the World Prize was created in 2004 to commemorate the creation of the Jikji. But it took time for the document to gain this level of recognition.

In 1998, the Korean Cultural Heritage Administration asked Unesco to include Jikji in the Memory of the World project, an international initiative designed to preserve valuable archives and collections from museums around the world.

Unesco refused to do so at a meeting of the International Advisory Committee in Vienna, Austria, the following year. The committee said that since the book is kept in France, both Korea and France should recommend the book as a cultural relic.

But the French library objected until the IAC meeting in June 2001, which was held in Cheongju. There is now a Unesco/Jikji Memory of the World Prize, set up in 2004, that aims to promote the Memory of the World project. An award of $30,000 is given every two years to individuals or institutions who make significant contributions to preserving world heritage.

Though Jikji is an important publication for people involved in Korean studies, it remains in the National Library of France, where it's been since 1950.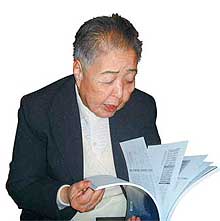 << Park Byung-seon, 81, a France-based Korean historian, "discovered" Jikji in 1967.[JoongAng Ilbo]

The story goes that the second volume of Jikji was taken out of Korea by Colin de Plancy (1853-1922). The French diplomat, who worked here in the late 1800s, used to collect Joseon ceramics and history books, which he took back to France when his term ended.

Jikji was one of those relics.

Plancy later sold the book to Henri Vever (1854-1943), an antiques dealer, for 180 francs.

Vever bequeathed the second volume of Jikji to the National Library of France and took possession following his death in 1950. The 39-page book has been there ever since. The first page of the second volume, however, is missing, so only 38 pages remain today.

"The condition of Jikji is fairly OK," said Rah Kyung-jun, a researcher at the Early Printing Museum in Cheongju. Museum staff have been visiting the National Library of France regularly to check on the condition of the book, which is cared for by a special research team.

The library also holds 650 cultural properties from the Silla, Goryeo and Joseon periods, mostly old documents and printing equipment.

The Early Printing Museum, along with the World Jikji Culture Association, has been promoting a movement to search for the first volume of Jikji. But its whereabouts remains a mystery.

The French government shows no inclination to return Jikji to Korea and it remains a sensitive issue, according to Kim Byung-yeon of the National Cultural Heritage Administration.

"The relic wasn't looted by France. It was taken out of the country legally by a private French collector. There is nothing that can be done at the governmental level," Kim said.

Bong Seong-ki at the National Library of Korea says that unless France donates or voluntarily returns the historic document to Korea, there is no hope.

Complete wooden copies are kept at the National Library of Korea, Jangseogak Library at the Academy of Korean Studies and Bulgap Temple in Yeonggwang, South Jeolla. The wooden copies were printed in 1378 at a temple in Yeoju, Gyeonggi.

The French Embassy in Korea declined to comment for this article on whether or not France would consider returning the relic.

"While it's difficult to even bring back looted cultural properties, it's even more difficult to bring back property that was legally taken out of Korea," Bong said.

"All we can do now is to rightly keep cultural properties that still remain in Korea. If we're not careful, we might lose those relics, too. It's our responsibility to protect each of them, whether preserved inside or outside of the country."

Bong added that just because Jikji is in France doesn't mean its soul has left Korea.

"The spirit still remains in our hearts."

Korean Buddhist News from BTN (Korean Language)

---

---






Please help keep the Buddhist Channel going

Point your feed reader to this location