Monks should stay out of Sri Lanka politics, says monk legislator
AFP, Oct 24, 2005
Colombo, Sri Lanka -- A top Sri Lankan Buddhist monk legislator admitted for the first time his all-monks party had been mistaken to enter politics, but stopped short of quitting the legislature where it has nine crucial seats.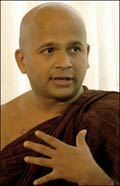 Monk Uduwe Dhammaloka (photo) told reporters here on Sunday that he realised the monks could have done more for the people of Sri Lanka had they stayed clear of politics and concentrated on their theological work. "Monks can do better by not joining political parties," Dhammaloka said. "The climate is not conducive for monks to enter politics. It is corrupt."
His National Heritage Party, or JHU, the first-ever all-monk party to contest a poll, won nine seats at the April parliamentary elections. Some followers believe the highly photogenic 37-year-old Dhammaloka is a future Buddha, and many fall at his feet in reverence. He became a monk at the age of 10 and his charisma has helped pull large crowds to his meetings.
Last year, he led the monks' campaign to enter politics. "There is no bar in Buddhism to prevent monks entering politics," he told AFP in an interview last year. "When there were threats to the nation, monks even went to the battlefield." However, on Sunday he wanted to ensure that monks never enter politics again.
"We opened a door (for monks) to enter politics, but we will leave after firmly shutting it to ensure that monks will not enter politics again," Dhammaloka said. The JHU last month agreed to support the candidature of Prime Minister Mahinda Rajapakse who is contesting the presidency at the November 17 election.
Rajapakse is campaigning on a nationalistic plank while his main opponent Ranil Wickremesinghe is seeking broader national consensus. Dhammaloka declined to say if he will quit parliament after agreeing with critics that the clergy should be above politics.
The monks were also involved in a brawl in parliament at the time of the vote for a speaker last year. Nearly 70 percent of the country's 19.5 million population are followers of Buddhism and the clergy has a considerable influence, especially among the rural electorate.