Quiet tsunami prayers mark Christmas in Thailand
By Darren Schuettler, The Star (Reuters), Dec 25, 2005
KHAO LAK, Thailand -- Simple Buddhist ceremonies marked Christmas Day in Thailand's tsunami zone on Sunday as relatives of victims remembered their loved ones on the eve of the Indian Ocean disaster's first anniversary.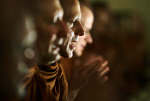 << Buddhist monks recite prayers during a ceremony to commemorate the first anniversary of the tsunami on Thailand's Phi Phi island December 25, 2005. (REUTERS/Bazuki Muhammad)
"I will have to die before I can forget," said 80-year-old Thai Sorjia Aiawsakul, who lost her son, daughter-in-law and niece in the Dec. 26 tragedy, which killed an estimated 231,000 people in Asia and Africa. Thailand's official death toll stands at 5,395.
"He was the son I liked most. Even though a year has passed I think about him each day. I still cry every day," she said as saffron-robed monks intoned Buddhist chants at Wat Ban Muang on Khao Lak, the coastline where most of Thailand's victims died.
In the immediate aftermath of the disaster, the temple served as a temporary morgue for the hundreds of bodies of foreign holidaymakers and Thais dragged from the waves and debris.
On Sunday, it hosted around 300 mourners -- both Thai and foreigners -- seeking a chance for quiet reflection before Monday's planned mass commemorations.
"We wanted to come here to remember those who died," said 17-year-old New Yorker Joann Johnson, who is teaching English and art at a school in the nearby fishing village of Ban Nam Khem, which has been totally rebuilt in the last year.
While many of the physical scars of the tsunami have disappeared with the reconstruction in Thailand, the mental scars of victims -- and orphans in particular -- remain.
"There are many at my school who lost their relatives. It's a very difficult time right now for the kids," said Johnson, who was accompanied by her parents and two sisters.
On Koh Phi Phi, the backdrop to cult backpacker movie "The Beach", Buddhist monks from 13 different nations led a similar day-long ceremony on a secluded beach far away from the hustle and bustle of the rejuvenated paradise isle.
Many survivors said they had spent the last year wondering why they had been spared when so many others on Phi Phi -- around 700 people in the final reckoning -- had perished.
"I guess it makes you a little more religious," said Denny Sacipovic, a 25-year-old Swede who narrowly escaped the killer waves when he left the island with his girlfriend and her mother the day before disaster struck.
"Was it just luck or is there something more that decides if you are going to make it?" said Denny, whose back is covered with elaborate tsunami tattoos and the date few will forget -- Dec. 26, 2004.
Since her brush with death, 41-year-old Internet consultant Evelyn Rodriguez from San Jose in California has been running a weblog to try to make sense of an event that completely reshaped her view of the world.
"It's one thing to read about the immortality of the soul, but it's another to see your own life flash before your eyes," Rodriguez said.