Chinese Buddhism gathering is 'propaganda'
Sapa-AP, April 14 2006
Hangzhou, China -- International human rights groups on Friday denounced a Chinese government-sponsored forum on Buddhism as "cynical propaganda" aimed at sugarcoating religious repression in Tibet.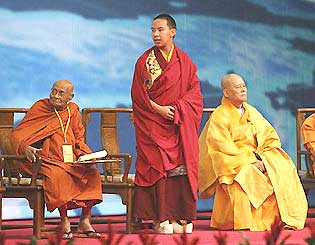 << Gyaltsen Norbu (2nd-L), known as the Panchen Lama, attends the opening ceremony of the World Buddhist Forum with other Buddhist leaders including Grantha Visarada Rajakiya Pandita (L), supreme prelate of Sri Lanka, in Hangzhou, Zhejiang province in east China April 13, 2006. [Reuters]
The five-day conference has included a rare appearance by 16-year-old Gyaltsen Norbu, China's disputed choice for Tibetan Buddhism's second highest leader, the Panchen Lama.
In what was believed to be his first appearance at an international forum, Norbu delivered a speech on Thursday endorsing China's policies on religion and saying Buddhists should be patriotic and "defend the nation".
Mary-Beth Markey, head of the International Campaign for Tibet, said China appeared to be using the conference to put forward an image of religious tolerance ahead of President Hu Jintao's visit to the United States.
"It's shameful that Beijing has scripted Gyaltsen Norbu... with statements that are clearly untrue about religious freedom in China," Markey was quoted as saying in a news release.
China maintains tight control over all religions and the rules are especially restrictive in Tibet, where Buddhism is an integral part of the restive Himalayan region's separate identity.
While Beijing has allowed the rebuilding of many of the thousands of temples destroyed during the Cultural Revolution, monasteries, temples, mosques and churches are still barred from operating schools, hospitals or other civic institutions.
Markey's group claims restrictions on Buddhism in Tibet are actually getting tighter, citing new laws on religious activities and the imprisonment of several top Buddhist teachers known for their loyalty to Tibet's exiled leader, the Dalai Lama.
Beijing installed Norbu as the 11th Panchen Lama in 1995, rejecting another boy chosen by the Dalai Lama. That other boy, Gedhun Choekyi Nyima, has not been seen in public since then and Chinese officials refuse to say where he is.
A Chinese official said on Wednesday the Dalai Lama - the world's best-known Buddhist leader - was not welcome at the conference.
The London-based Free Tibet Campaign said the forum illustrated that China was willing to "go to enormous lengths to present a misleading picture of official tolerance of Tibetan Buddhism."
"In a typical show of cynical propaganda, China has pushed to centre stage Gyaltsen Norbu," it said.
The carefully scripted forum in the eastern resort city of Hangzhou has attracted about 1 000 Buddhist clergy and scholars from more than 30 nations. It ends on Sunday. So far, it has steered clear of any discussion of controversy, focusing instead on Buddhist morality and unity between different sects.
Participants refused to comment to reporters on the dispute over the Panchen Lama.
"It's the first time that this sort of thing is being held in China, so I think everyone wants to go easy and make sure things go smoothly," said Dasho Sangay Wangchug, a government culture official from the tiny Himalayan kingdom of Bhutan.
He added: "Anyway, it's a good opportunity for Buddhists from different traditions to come together and share."