Dalai Lama in Sikkim on 20 April
Statesman, March 17, 2005
GANGTOK, Sikkim (India) -- The Dalai Lama will visit Sikkim on 20 April this year. The Dalai Lama will visit the state for a week-long period.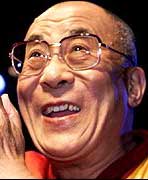 According to information received here, the Dalai Lama will visit several monasteries in Sikkim and will give spiritual discourse during his stay here. The state government's department of ecclesiastical affairs will take care of the spiritual leader's visit here, it is learnt.
The news of Dalai Lama's visit has created excitement among his followers and the public in general here. Although he has visited the state in the past but his forthcoming visit will be his first after the relative normalisation of relations between India and China and the recognition of Sikkim as part of India by the Chinese government.
Senior officials of the state government here said that massive arrangements are being made to facilitate the visit. Officials said apart from tight security for the spiritual leader and his entourage, large-scale arrangements are being made to accommodate thousands of his followers who will visit Sikkim during the Dalai Lama's visit.
The state government here has formed a core group of senior government officials and others to look after the arrangements. Since its formation, the group has reportedly held regular meetings in this connection. The supreme head of Gelugpa sect of Vajrayana Buddhism with its seat in Tibetan capital Lhasa, the Dalai Lama's government-in-exile runs a number of organisations in Sikkim. Prime among them is the popular hotel Tibet at Gangtok.
The Dalai Lama's government has also deputed a Tibetan welfare officer at Gangtok to look after the affairs of Tibetans living in Sikkim and nearby regions.
TOP