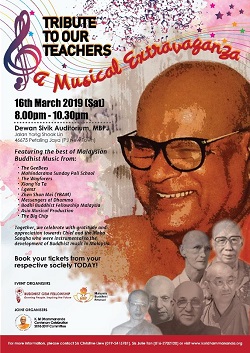 Buddhist music may have their origins in Central and East Asia, however as religious hymns and songs go, credit has to be given to enterprising Malaysian Buddhists.
Buddhist hymns were first introduced in Sunday schools some time in the 1950's. The late Venerables Sumangalo and Ananda Mangala were pioneers in establishing outreach to Buddhist youth, and the use of songs were some of the more innovative methods to entice and bring the youths into the temples.
However, it was not till the late 1970's where formal music groups appeared, creating new hymns which were purely Buddhist in nature.
The trailblazer was the Wayfarers, who was credited to have brought Buddhist songs from within the temple walls into the outside world. Their first album "Moments of Inspiration" became an immediate hit with undergraduates at Buddhist societies in many local universities. Their songs were said to be the catalyst for popularising Buddhism among the English speaking youths in that era.
One key personnel who encouraged this development was the late Chief Venerable K. Sri Dhammananda. While some elders frowned on the idea of having songs sung inside temples, the late Chief thought otherwise. Through his wisdom and insight, he encouraged the development of these singing groups.
Following the success of the Wayfarers, a group of Chinese singers soon formed their own troupe. "Xiang Ya Ta's" big hit "Yi Zhan Deng" with lyrics composed by Bro. Tan Huat Chye proved so popular that it was noted as a revolutionary agent and catalyst for promoting Buddhism to chinese speaking youths.
And so it proved, that with support from open minded monks and some enterprising singers, songs and hymns can play an important role in promoting Buddhism to the general public.
To acknowledge and celebrate this symbiosis, a concert entitled "Tribute to our Teachers - A Musical Extravaganza" will be organized on 16th March, 2019. The event will be held at the Sivik Centre, MBPJ, Jalan Yong Shook Lin, Petaling Jaya.
The aim of the concert is to showcase and trace the development of Buddhist hymns and songs over the years. Ten groups, including the originally pioneering Wayfarers and Xiang Ya Ta will be performing. These groups were selected to represent different generations of Buddhist musicians, and how they have grown from simple guitar strumming troupes to world class performers such as Imee Ooi and the Asia Musical Productions.
The two hour extravaganza is expected to entertain an audience of 1,000 people. Tickets are being sold out fast. Those interested to get hold of some of the last remaining tickets are requested to contact Ms Julie Tan at 016-2702120.
For more information, please visit:
https://www.facebook.com/events/597164887406378/