Blessing and £70m enlightens film on the life of Buddha
By Dalya Alberge, The Times Online, July 24, 2005
London, UK -- MORE than a decade ago an epic film about Buddha was abandoned after it provoked such threatening protests in India that the director needed police protection. Now the Anglo-Indian director Shekhar Kapur, is embarking on his own ambitious project, with a possible role for Richard Gere, a devout Buddhist.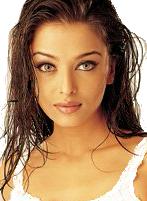 << Aishwarya Rai, expected to be casted in Buddha movie project
Although the film has yet to be cast, reports suggest that Brad Pitt and Aishwarya Rai, the former Miss World and star of Bride & Prejudice, might also be involved.
The film will tell the story of the man who appeared to have everything ? a royal title, looks and the most beautiful girls ? but who felt that something was missing and went on to attain enlightenment.
Some 2,500 years after his death, Buddha looks likely to be brought to life on the big screen as the film-makers have secured the blessing of the Dalai Lama. The film has a big budget ? up to about £70 million, it is believed ? funded entirely by the Indian billionaire industrialist Bhupendra Kumar Modi. In India it is not unusual for a sole person to back a film. In this case, he is supporting one of the industry?s leading directors. After making the critically acclaimed Bandit Queen, Kapur directed Elizabeth, which was nominated for seven Oscars and 12 Baftas, and made a star of Cate Blanchett.
His Buddha project comes 13 years after Mira Nair, the Indian director whose Salaam Bombay, about street children, was nominated for an Oscar as the best foreign film, faced strong protests from Buddhist groups. The more devout followers, The Times of India reported, opposed an enlightened Buddha being shown as an ordinary human being.
Nair could not be contacted yesterday, but he has previously denied that the film was abandoned because of the hostile response. He has also emphasised that he had ?no desire or intention? to make a film that would offend Buddhists.
Kapur, who describes himself as ?spiritual, not religious?, said that his film would explore the idea of ?searching for the spirit, for the self?. He said that he was not interested in a straight telling of the story, but wanted to offer an interpretation, which he accepted could provoke a controversy. ?But I have no intention of being controversial,? he added. ?There are so many different sects and different interpretations of one man?s story, there will be people who don?t agree with the interpretation. With the story of Christ, there are two interpretations.?