Prisoner denied access to book on Zen Buddhism by Gowanda Correctional Facility, Gowanda, New York USA
by Kooi Fong Lim, The Buddhist Channel, June 5, 2006
Zen teacher Venerable Kobutsu Malone engages in persistent and peaceful means to reverse ban order
Gowanda, New York (USA) -- A prisoner at the Gowanda Correctional Facility in New York State; William "Red" Graham has been denied access to a basic introductory text on Zen Buddhism entitled "Prison Chaplaincy Guidelines for Zen Buddhism" authored by Venerable Kobutsu Malone.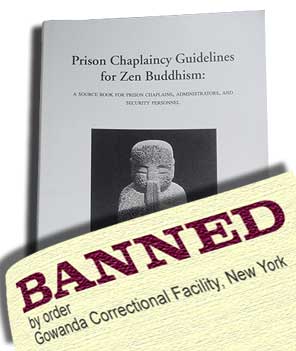 The facility's "Media Review Committee" will not allow William to receive a copy of the book due to a non-existent regulation which it lists as "Depicts/describes procedures to be implemented solely by Administration".
According to Ven. Kobutsu, the ban covers from pages 1-74, and since the book text is 74 pages in length - the prison authorities are objecting to the entire volume, except for the cover and the preliminary pages.
The primary objective of Ven. Kobutsu's recently published book is to provide valid information to prisoners, correctional and judicial professionals about the practices of Zen Buddhism in prisons and jails. The information presented is primarily about Zen and serves to illustrate, in a general sense, Buddhist practice in prison. The examples of liturgy and descriptions of monastic practices provided are representative of the Rinzai Zen Buddhist sect.
"I'm astonished", said a perplexed Ven. Kobutsu, "that the prison authorities have objected to basic Buddhist teachings such as the 'Heart Sutra', and other fundamental Buddhist principles such as 'The Three Marks of Existence', 'The Four Noble Truths' and 'The Ten Precepts' contained within the 74 pages saying that these are 'procedures to be implemented' by a functionary of the state."
What specific "procedures implemented solely by Administration" found in "Prison Chaplaincy Guidelines for Zen Buddhism" are being objected to?
According to the State of New York Department of Correctional Services (NYSDOCS) Directive # 4572 Media Review (Last updated 10/02/2000), it states in section II (Standards) a list of guidelines (A. through H) by which literature for prisoners is evaluated.
A comprehensive review of the directive's guidelines reveals nothing that substantiates a justification for the ban, as none of the content in the book contradicts in any way whatsoever what the State lists as "standards for media evaluation."
To date, only Gowanda Correctional Facility in New York has objected to the book. No other correctional facilities within New York State, The Federal Bureau of Prisons, or prisons and jails in any other state have taken similar action.
"It appears to be an arbitrary and discriminatory decision," said Ven. Kobutsu. "The prison officials do not seem to be adhering to their own regulations. Their action is totally bogus and constitute an egregious violation of Red's (William's) rights."
The prisoner in question has retained legal representation by a Buddhist attorney who has actually read "Prison Chaplaincy Guidelines for Zen Buddhism" from cover to cover. Currently he is seeking an official definition of any specifically objectionable material that is present in the volume.
William is seeking an indication how a copy of "Prison Chaplaincy Guidelines for Zen Buddhism" could be interpreted as a bona fide threat to security or of compelling peneological interest so as to justify denial of his access to religious material.
Note from the Editor
Ven Kobutsu Malone trained in zazen (zen meditation) with William "Red" Graham in Sing Sing Prison for seven years on a weekly basis. They have maintained contact for almost 15 years and have had numerous correspondences over the years.
We perceive that William should have his basic rights respected and accorded unobstructed access to Dharma literature. By walking on the path of the awakened state of mind, he has taken upon himself to cultivate a sense of self worth and to embrace each moment as it comes. This is the actualization of the Zen path.
We strongly perceive that by cultivating his zazen practice and Dharma studies, William is doing far more than conventional correctional procedures can allow, a move which we feel should be most welcomed by correctional facility authorities if they are really concerned with "constructive individual development."
As such, we welcome anyone who is concerned with the treatment that Willaim "Red" Graham has been receiving at the Gowanda Correctional Facility, to please write to any one (or all) of the following New York State Department of Correctional Services State Supervisory personnel and insist that they follow their own regulations and that the book ban be reversed:
Mr. Glen S. Goord, Commissioner
New York State Department of Correctional Services
Harriman State Campus, Building #2
1220 Washington Avenue
Albany, NY 12226
Mr. Anthony J. Annucci, Deputy Commissioner & Counsel
New York State Department of Correctional Services
Harriman State Campus, Building #2
1220 Washington Avenue
Albany, NY 12226
Mr. Al Coombs, Director, Media Review
New York State Department of Correctional Services
Harriman State Campus, Building #2
1220 Washington Avenue
Albany, NY 12226
Mr. Mark Leonard, Director, Ministerial and Family Services
New York State Department of Correctional Services
Harriman State Campus, Building #2
1220 Washington Avenue
Albany, NY 12226
If you wish to express your support for William, please write to him directly:
Mr. William Graham # 84 A 6009
Gowanda Correctional Facility
Post Office Box 311
Gowanda, New York 14070-0311 USA
With palms together in gratitude: info@buddhistchannel.tv