China plans to help Nepal develop Buddha's birthplace at Lumbini
Reuters, Jun 16, 2011
Kathmandu, Nepal -- A Chinese-backed foundation and Nepal's government plan to transform Lord Buddha's birthplace in southern Nepal into a magnet for Buddhists in the same way as Mecca is to Muslims and the Vatican for Catholics. The Asia Pacific Exchange and Cooperation Foundation plans to raise $3 billion at home and abroad to build temples, an airport, a highway, hotels, convention centres and a Buddhist university in the town of Lumbini, about 171 km (107 miles) southwest of Nepal's capital Kathmandu.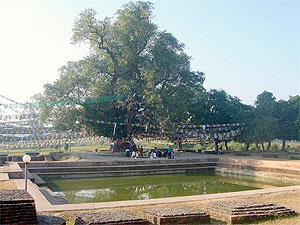 The foundation, blessed by the Chinese government, signed a memorandum of understanding with the Nepalese government last month to jointly develop and operate Lumbini, where Buddha was born Prince Gautama Siddhartha about 2,600 years ago. The foundation also pledged to bring communications, water and electricity to Lumbini.
Buddhism was virtually wiped out in China during the chaotic 1966-76 Cultural Revolution when temples were shut, Buddhist statues smashed, scriptures burned, and monks and nuns forced to return to secular life and marry. In recent years, China has become more tolerant of Buddhism, which is considered "traditional culture" alongside Taoism and Confucianism.
"Lumbini will transcend religion, ideology and race. We hope to rejuvenate the spirit of Lord Buddha," said Xiao Wunan, a devout Buddhist who is executive vice president of the foundation. The development of Lumbini will also help boost government revenues, create jobs and improve infrastructure in the impoverished corner of Nepal, the two sides said in the memorandum. The town attracts nearly 500,000 tourists each year.
Xiao hopes Lumbini can bring together all three schools of Buddhism — the Mahayana, or "Greater Vehicle" which is dominant in China, Hong Kong, Japan, South Korea and Taiwan; Tibetan Buddhism; and the Theravada or Hinayana ("Lesser Vehicle") which is popular in Cambodia, Myanmar, Sri Lanka and Thailand.
China's expanding ties with countries in South Asia has stoked concern in giant neighbour India which fears encirclement, but Xiao said there were no political motives behind the push to develop Lumbini. He said that the foundation hoped to talk to New Delhi about the possibility of developing Bodh Gaya in eastern India where Buddha attained enlightenment, and Kushinagar, where he died.
In recent years, officially atheist China has sought to control but not stifle religion, using faith to help curb rising social unrest and fill an ideological vacuum in the post-Mao Zedong era. But the government has little tolerance for groups that challenge its control — earlier this year security forces detained members of a Christian "house church" in Beijing that sought a permanent place of worship.
China is generally less fearful of Buddhism, with its home-grown roots. The number of followers in China has surged dramatically to about 500 million.
Hangzhou, capital of China's eastern coastal province of Zhejiang, hosted the first World Buddhist Forum in 2006, thanks to incumbent Vice President Xi Jinping, then the provincial Party boss who pulled out all the stops to stage the landmark event. The second meeting of the forum was held in Wuxi in nearby Jiangsu province in 2009. China plans to hold the third forum in Xian, home of the terracotta warriors, next year.
Last year, the officially atheist Chinese Communists gave their blessings to Tzu Chi Foundation, a Taiwan Buddhist charity, to set up shop in China, a sign of growing but still limited religious tolerance and as part of a drive to win the hearts and minds of Taiwanese. Tzu Chi opened its China chapter in the form of a bookshop-cum-tea house in Suzhou, Jiangsu province, a popular investment choice for Taiwanese companies which have pumped billions of dollars into the world's second-biggest economy.
In 2008, Taiwan's top monk, Hsing Yun, visited China for the first time since being banned from entry after his temple near Los Angeles gave sanctuary to Xu Jiatun, China's de facto ambassador to British-ruled Hong Kong, after the Chinese army crushed student-led demonstrations for democracy in 1989. In Beijing, he urged the Chinese leadership to turn Tibet's exiled spiritual leader, the Dalai Lama, "from an enemy into a friend."
This kind of comment could have provoked a sharp official response, but China appears set on winning Taiwanese hearts and minds. Hsing Yun is now a best-selling author in China, has met former president Jiang Zemin twice and has been allowed to build a temple in Yixing, Jiangsu province, as well as hold a calligraphy exhibition.
Among further signs of growing tolerance. museums in Beijing and Shanghai hosted exhibits last year to commemorate the 400th anniversary of the death of Matteo Ricci, the Italian Jesuit who brought Christianity to China.
But China maintains tight control especially in Tibet where monks and nuns have been jailed for supporting independence or their exiled spiritual leader, the Dalai Lama, who won the Nobel Peace Prize in 1989.
TOP