Extreme Buddism in Nepal
by Isabella Tree, The Sunday Times, December 31, 2006
With thigh-bone trumpets and rhythms played on human skulls, Tibetan Buddhism is not for the squeamish. Isabella Tree experiences a very different spirituality

Kathmandu, Nepal -- The famous all-seeing eyes of Boudhanath stupa gazed down on us as my friend Rosa unwrapped her mysterious package on the rooftop of the Saturday Cafe. She had already told me what was in it, but it was hard to believe. It seemed so gruesome, so — un-Buddhist.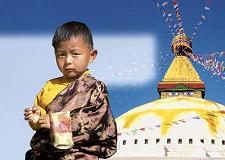 << Flying the flag for Tibetan Buddhism: Bouhanath stupa
The ghostly mist of early morning made our assignation seem doubly surreal. Down below, monks and nuns in magenta robes circled mindfully amid a stream of lay Tibetans, Newars, Sherpas and Tamangs, as well as westerners in North Face and jeans.
Gingerly, my friend lifted out the contents of the embroidered case. The object inside was a damaru — a hand drum of the type used in Tibetan Buddhist meditation. When rotated very fast backwards and forwards, tiny pellets suspended on two cords rap the little drums on either side in rhythmic alternation, making a sound to lift the practitioner to a higher awareness.
Rosa had been asked to take this particular damaru back to England for some Buddhist friends, and was understandably nervous about it. The hand drum was just as she had described. It was made out of human skulls — children's skulls, to be precise. Over the highly polished craniums was stretched a thin membrane of human skin.
"One skull is female, the other is male," she explained. "It symbolises the union of wisdom and compassion. It's very powerful. If you get one made out of babies' skulls, that's even better — something to do with the energy flowing through the opening in the fontanelles."
Rosa is not a Buddhist herself, but she knew enough to be worried about bad karma. "If you don't know where something like this has come from, you have to make sure it has the right energy, that it was made with the right intention. I'm not taking any chances. I'm going to take it to a Rinpoche to get it blessed. Don't want my plane crashing or anything." She was laughing, but I could see she wasn't joking.
The shops around Boudhanath are full of similar objects. In one, I was shown a selection of skull offering bowls; in another, half a dozen trumpets made from women's thigh bones. Dusting one off, the shopkeeper put the hip joint to his lips and blew, making a noise like a hunting horn.
This almost jocund familiarity with death is one of the first challenges a westerner faces when encountering Tibetan Buddhism. A tall American I met told me how she'd been in a taxi with a lama when he started measuring her thigh. "What are you doing?" she'd asked him in amazement. "Your thigh bones would make marvellous trumpets," he'd exclaimed. "Would you leave them to our monastery?" Slowly, though, as I became more familiar with them, these ritual implements made of human body parts seemed less macabre. There was something beautiful, even reassuring, in the touch of bone, in the feel of another's — and hence my own — mortality. But to Buddhists, these artefacts are not just reminders of impermanence, of the illusory nature of life; they are power tools, keys to a higher consciousness. There is tantric magic in them.
Rosa and I waited outside Ka-Nying Shedrub Ling monastery for a break in the morning's teachings, and a chance to have an audience with the renowned Rinpoche Chokyi Nyima. He was born in Tibet in 1951 and, at the age of 18 months, was recognised as the seventh incarnation of the Drikung Kagyu Lama and a spiritual emanation of Nagarjuna, the second-century Indian Buddhist philosopher. After the Chinese invasion, Chokyi Nyima fled to Sikkim, where he became aide to the 16th Karmapa. It was the Karmapa who, in the early 1970s, instructed Chokyi Nyima to establish a monastery at Boudhanath, where there is a substantial community of Tibetan exiles, and to turn his efforts towards instructing western practitioners (Richard Gere, Laurie Anderson and Steven Seagal are among the followers).
The doors of the shedra flew open and a hundred or so mainly western practitioners streamed out for tea. Rosa and I removed our shoes and entered the gigantic shrine hall. On a high platform sat the beneficent, walnut-faced figure of Chokyi Nyima — like Yoda, but without the ears. A queue of supplicants was inching its way around the walls for his blessing. One by one, they approached the dais, some relaxed and talkative, others bowing obsequiously. As each came before him, the Rinpoche leant forward intently, sometimes muttering a mantra or blowing on their heads, as if exorcising a demon.
When it came to my turn, I found myself suddenly nervous. It's not every day you stand in front of a reincarnate lama. Clumsily, I thrust forward my gift — a box of Rococo creams. "Ah, chocolates!" he smiled. "From London," I spluttered. It was only later I wondered what the Enlightened One would make of Passion Fondant and Venus Nipples. "I wanted to ask you", I stammered, "what do you think makes Buddhism so appealing to westerners?"
When he spoke, it was with surprising clarity. His English had a distant American twang. "It is because Buddhism is not a religion, so to speak. It is a science, a way of understanding the world. It is practical. The wisdom side is sharp and the compassion side is beautiful. Even so, it is difficult for westerners to understand the east, just as it is for east to understand west. It takes a lot of hard work, and patience." It seemed a great feat — to be transmitting the philosophical Everests of Buddhism to the flat, materialistic landscape of the western world.
Outside, Rosa was looking distinctly more relaxed. "Rinpoche said the damaru has good karma. I shouldn't be worried. It will bless my flight back. And he said it's right it should be used for its proper purpose." It was incredible to think of the rat-tat-tat of that little skull drum, soon to be conjuring peaks of higher consciousness from a back room in Battersea.
----------------
Is it safe?
The November peace agreement between the government and Maoist rebels is holding, but check the security situation on the Foreign Office website (www.fco.gov.uk) before travelling.
Getting there:
there are no direct flights from the UK to Nepal, but there are convenient connections via the Gulf. Qatar Airways (0870 770 4215, www.qatarairways.com) has flights from Heathrow, Gatwick and Manchester, via Doha; from £485. Or try Gulf Air (0870 777 1717, www.gulfairco.com).
Where to stay:
the Kathmandu Guest House (www.ktmgh.com; doubles up to £30) is an institution, with a good buzz. Or try the Kantipur Temple House (www.kantipurtemplehouse.com; doubles from £31), a boutique-style hotel in a converted temple. For an old palace with a pool, try the Shanker Hotel (00 977 1 4410151, www.shankerhotel.com.np; doubles from £37).
Tour operators:
Indus (020 8901 7320, www. industours.co.uk) has a 15-day tour of Nepal, visiting Kathmandu and Boudhanath, Bardia and Chitwan national parks and Pokhara, from £2,270pp, including flights from London or Manchester with Qatar Airways, via Doha, transport and park fees. Or try Greaves (020 7487 9111, www.greavesindia.com).
Go for new year:
Want to keep the Hogmanay festive spirit alive after today? Then travel to Nepal for February 18 — it is new year, or "Losar", the biggest festival on the country's calendar. Celebrations at Boudhanath, near Kathmandu, are a joyful, high-octane event, with Tibetans and villagers from Mustang and Humla trekking in from the mountains to join all the singing, feasting and drinking. A new set of clothes is bought for the occasion, and traditional costumes — colourful silk, satin, brocade, fur trim, and tall hats — are much in evidence, with monks in magenta robes performing ancient dances.
The first two days of Losar are spent visiting the monasteries, friends and relations, eating long kapse biscuits and drinking inordinate amounts of tea and chang (rice beer). The third day culminates at the stupa, which is bedecked with miles of new prayer flags in the five auspicious colours, each one printed with a mantra that the lightly blowing wind will spread throughout the world. The huge dome is freshly whitewashed and daubed with arcs of saffron, like the petals of a lotus. Celebrations take place on the platforms around the dome, the different levels of which form an elaborate architectural mandala.
At night, thousands of tiny butter lamps illuminate the stupa. The highlight of Losar is the throwing of tsampa, or barley flour, the staple food of Tibetans. By the end of the celebrations, a fine white dust covers everyone, blessing them with peace, prosperity and happiness for the coming year. Depending on political relations between Nepal and China, a throne may be erected on the stupa bearing the photograph of the Dalai Lama, so devotees can offer up prayers and present khatas, or silk scarves, for his blessing. In recent years, this public display of support for such a high-profile "enemy" of China has been banned by the Nepalese; people go instead to the nearby Gelugpa monastery, where the Dalai Lama's photograph can be worshipped more discreetly.
TOP