Highway threatens Buddhist legacy in legendary Mustang
IANS, May 3, 2007
KATHMANDU, Nepal -- A priceless treasure trove of Buddhist teachings, manuscripts, paintings and other historical artefacts lie under grave threat, ironically from the development in remote northern Nepal.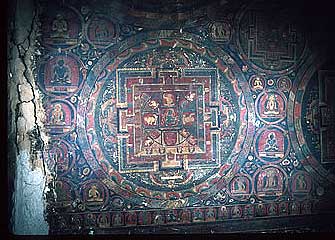 << A Tibetan Buddhist cave painting found in Jampa Gompa, Mustang district
Nepal's frontier Mustang district - once part of an ancient Tibetan kingdom - has been safeguarding thousands of caves, some of which are nearly 3,000 years old, full of paintings and manuscripts in ancient Tibetan scripts.
Archaeologist Sukra Sagar Shrestha, who specialises in high-altitude archaeology and has been associated with excavation and restoration projects in Mustang, estimates there are over 10,000 such caves, most of them undiscovered.
Some of the caves are multi-storeyed, with different layers used for residence, imparting religious education to monks and nuns, and burial sites. Written in at least four different Tibetan scripts, the manuscripts, once deciphered, are likely to provide a wealth of historical data about the ancient Tibetan kingdom, its relations with China, Nepal and India, and perhaps even about the Buddha himself.
Between 15th and 17th centuries, Mustang – a corruption of Lo Manthang, meaning the "southern plains of aspiration" – was an independent, rich and powerful kingdom whose rulers dominated the trans-Himalayan trade between Tibet and India.
A walled city, it was enriched by a constant flow of scholars, painters and artisans, giving rise to a treasury of art, architecture, religious education and historical archives.
In the 18th century, when Nepal went to battle against Tibet, Lo Monthang allied itself with Nepal and was soon annexed by Nepal. But this saved its Buddhist cultural legacy from destruction, a fate suffered by Tibet after it was invaded by communist China.
The remoteness, near inaccessibility and freezing climate of Mustang combined to protect and preserve the ancient Buddhist heritage.
"The caves, where the temperature is never more than eight degrees Celsius, provides the best natural preservation for the relics," said Shrestha. "Add to it the sparse population. If you walk throughout the day, you'll hardly meet over four people."
However, now the advent of an ambitious trans-Himalayan highway – planned for connecting India, Nepal and China as well as other Asian cities – is threatening the hidden treasures.
Besides the influx of outside population it will bring to the kingdom once closed to the outside world, the highway will also pass through an archaeologically rich area.
"During the course of the highway, the land is so soft in a part of northern Nepal that it has to make a detour," said Shrestha. "The detour is through an area where there are thousands of such caves."
Nepal's director-general of archaeology Kosh Prasad Acharya is, therefore, appealing to the international community for help to preserve this unique heritage.
"Development can't be denied. So we have to look at the best compromise," said Acharya. That, according to him, means launching a full-fledged mission to discover the caves and then to document the treasures.
"It is an expensive matter and we need help," he added. "We ask the international community to help in any way it can - by providing funds, expertise and information."
TOP