Seeking the truth on a Buddha's trail
BY BRIAN DONOHUE, Star-Ledger Staff, February 4, 2007
Mysteries surround rare statue returned to Pakistan
Newark, New Jersey (USA) -- On a September morning in 2005, federal customs inspectors pried open a suspicious wooden crate labeled "decorative items" at Newark airport and gazed at a gaunt 40-inch stone statue nestled in a bed of Styrofoam packing.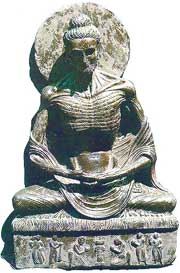 The figure in some ways resembled a Buddha, but this was not the rotund image of calm and happiness the world knows so well. This one was emaciated and stoic. The agents were awestruck, but had no idea what they were looking at.
"It's one of the strangest items that's ever been attempted to be smuggled into Newark," said Tom Manifase, deputy special agent in charge of investigations for U.S. Immigration and Customs Enforcement in Newark.
Last month, New Jersey's starv ing Buddha was sent back to Pakistan, where officials say it was created at the decree of Buddhist kings as far back as 2,000 years ago, and illegally excavated and smuggled out of the country.
Following a brief ceremony that marked the return of the statue to Pakistani officials, officials touted the unusual item as one of only two of its kind in the world.
Mohsin Razi, consul general of the Pakistani Consulate in Manhattan, praised the return as a triumph in the effort to prevent loot ing of his country's ancient treasures.
"This is a part of the whole wide world's heritage," he said. "How can you put a value to a piece of priceless history?"
But the tale of Jersey's starving Buddha is a tangled one -- of history, of religion, of precious antiquities, of smuggling and frauds and of the tensions of world politics.
And contrary to what the Pakistani diplomat says about this statue, some do put a price this particular Buddha.
"I have a place for that Buddha, and it's Disney World," said John Eskenazi, a renowned London- based dealer of South Asian antiquities who viewed an e-mailed photo of the Buddha and instantly called it an obvious fake.
"Everything about it is fake. The stone, the proportions, the head. Stylistically it doesn't make sense. Everything points to a fake. It's just a joke."
A SPIRITUAL FAST
In the six years that Siddhartha Gautama, the founder of Buddhism, searched for enlightenment, he experimented with denying him self food, at one point eating just a grain of rice a day.
"My body reached a state of extreme emaciation ... the hair, rotted at its roots, fell from my body as I rubbed," he is quoted as saying in early scriptures known as the Pali Canon.
It was only when he began to eat again that he was able to realize spiritual progress and became the benevolent figure the world is more familiar with.
For centuries around the time of Christ, the kingdom of Gand hara, located in what is now northern Pakistan and Afghanistan, produced some of the greatest sculpture ever crafted -- rivaling, some experts say, the marbles of ancient Greece.
The starving Buddha is a hallmark of Gandharan art. But today, after centuries of pillage by Arab conquerors, European colonials and modern-day smugglers, they are extremely rare.
With wars raging in Afghanistan and Iraq, customs officers worldwide are on high alert for antiquities being smuggled out of the region.
Experts say thousands of pieces of Gandharan art were taken from the region area while it was under British rule and exported to Great Britain at the end of the 19th century. Those pieces can be legally traded and exported on the open market. But pieces excavated more recently must remain in Pakistan, or at least be issued an export permit by the Pakistani government.
In Pakistan, like many coun tries, those laws are often ignored by both smugglers and, all too often, government officials. New pieces continue to pop up in galleries in London, Tokyo and other cities. Some can be easily found on the Internet. Others have appeared in public museums.
John Huntington, a professor of Buddhist art at Ohio State University and one of the nation's leading experts, describes "storehouses in Pakistan where there are thou sands of pieces just waiting for transport.
"You see dealers in Japan and Australia that can maintain an in ventory some way or another. That means this stuff is moving all the time," Huntington said.
In recent years, Gandharan art has made headlines primarily when it was being destroyed. The Tali ban, which ruled Afghanistan until the U.S. invasion in 2001, systematically destroyed many Gandharan monuments, including two giant Buddha statues carved into a hillside.
SUSPICIOUS DOCUMENTS
New Jersey's starving Buddha arrived in cargo at Newark Liberty International Airport on a flight from Tokyo. Two days earlier, customs agents had seized a crate full of smaller, similar artifacts arriving at Port Newark on a ship from Lon don.
Forms accompanying both shipments wrongly listed Dubai as the country of origin, officials said. And both were being sent to a private residence in the Morris County town of Flanders, according to Manifase.
The items were sent to a storage warehouse in Edison and placed under armed guard, Manifase said.
"They knew something was fishy," said Razi, the Pakistani consul.
After a year-long investigation and consultations with experts, authorities determined the items were ancient treasures smuggled from an unknown archaeological site in northern Pakistan.
But one expert the customs officials did not talk to was Eskenazi, owner of a London art gallery and widely known as one of the world's top appraisers and private dealers of Asian art.
The Star-Ledger showed him a photo of the Buddha the day after its return to Pakistani officials. Customs officials were shocked when told of Eskinazi's opinion that the starving Buddha may be a knockoff.
Manifase said the authenticity of the items was verified by two top experts, including Fazal Dad Kakar, director general of the Pakistani government's Department of Archaeology and Museums.
"There was no doubt they said it was the real deal," Manifase said.
Kakar, now in Pakistan, could not be reached for comment. The other expert who reviewed the pieces for ICE says he never went that far.
Huntington, the Ohio State ex pert, says he viewed photographs of the Buddha at the request of customs officials and decided the items might be real.
But without closely examining them in person, he said, he could not issue a final opinion. "My opinion is these are probably all legitimate, but that's from a photograph," he said. "I will not underwrite that in any form without hav ing my hands on the pieces."
Huntington said a far more de tailed examination is required, including testing the rock and removing calcification to examine how it was carved.
Martin Lerner, former curator of Indian and Southeast Asian Art at the Metropolitan Museum of Art in New York, also reviewed photographs of the starving Buddha and a small cup that was seized, and said they could be authentic.
"I think it's unlikely that it's real, but I can't say for sure," Lerner said of the Buddha figure. "If it's fake it's not an obvious fake. If it's a fake, it was done by compe tent people."
And if it's real, he said, "it's very important" -- a piece that private collectors would likely pay more than $1 million to acquire.
Customs officials will not disclose the identity of the Flanders resident to whom the items were being sent. The intended recipient has not been charged with any wrongdoing, partly because the items were never picked up.
Officials say they initially seized the crates because they contained false information on their manifests. And when investigators contacted the Tokyo gallery listed as the seller of the items, workers there said they had not sold or shipped them.
MORE CONCERNS
If the Buddha statue is real, there are other worries about its re turn to its homeland.
Some experts fear the Buddhist treasures may not be entirely safe in the hands of Pakistan's Islamic government, which some say has a spotty record of caring for non-Islamic artworks.
"This is material from a Buddhist culture and these are Muslim cultures now and Islam has no particular fondness for this type of image," Lerner said.
Paul Kunkel, membership secretary of Saving Antiquities For Everyone, a Jersey City-based organization that works to prevent the destruction and looting of ancient art, has similar concerns.
Kunkel, who attended the ceremony at which U.S. officials turned the items over to Pakistan, re counted how one official picked up a cup, believed to be from the second century B.C and "stuffed it in a bag on their way out." U.S. Customs officers, he said, had to help the Pakistanis push the crates onto a truck.
"They almost seemed reluctant to pick them up," he said.
Since the ceremony, Kunkel has been trying unsuccessfully to contact Pakistani officials to track the items to make sure they are treated properly and don't wind up back in the hands of smugglers.
Pakistani government officials bristle at such concerns. In recent years, the Pakistani officials say, they have stepped up efforts to combat widespread smuggling and safeguard antiquities, regardless of what religion they depict.
Razi, of the Pakistani consulate, said the starving Buddha and other items will be safeguarded in a museum, possibly in the city of La hore, or at Taxila, an archaeological site containing the ruins of an an cient Gandharan city.
"These are really perfect pieces of art," said Razi. "Thank God it was caught."
TOP