Dalai Lama Encourages Buddhist Nuns on the Path
by Rinchen Khando Choegyal, Director, Tibetan Nuns Project; Founding member, Tibetan Women's Association, Nov 13, 2013
Dharmsala, India -- It was a moment that Tibetan Buddhist nuns dream of -- to be in the presence of the Dalai Lama and to hear his words of encouragement about their studies. Many of the nuns had risked their lives fleeing Tibet to see the Dalai Lama and to find the freedom to practice their Buddhist faith.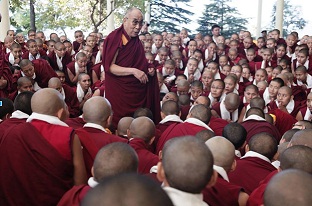 << His Holiness the Dalai Lama speaks encouragingly to hundreds of exiled Tibetan Buddhist nuns in India about the importance of their roles in preserving the Buddhist teachings and as future teachers. (Photo taken on Nov 3, 2013 by Tenzin Choejor, Office of His Holiness the Dalai Lama)
The nuns had just completed a one-month debate session with participants coming from eight different nunneries in India and Nepal. These sessions have been an integral part of the nuns reaching the level of excellence in their studies that they have. His Holiness called them up to his residence after its conclusion and gave them a brief talk and then posed for a photograph with the nuns of each nunnery and then with the entire group.
The nuns have been helped on their path by the Tibetan Nuns Project and its network of global supporters. Headquartered in India and will a small office in Seattle, this 501(c)3 charity was established in 1987 under the auspices of the Tibetan Women's Association and the Department of Religion and Culture of His Holiness the Dalai Lama.
The Tibetan Nuns Project has helped to re-establish nunneries in India and currently provides education, food, shelter and health care to over 700 Tibetan Buddhist nuns from all schools of Tibetan Buddhism and ranging in age from pre-teen to mid-80s.
Venerable Lobsang Dechen, Co-Director of the Tibetan Nuns Project and a nun herself, recalls the early days of the Project:
"When the nuns arrived in India, they were ill, exhausted, traumatized and impoverished. Many nuns had faced torture and imprisonment at the hands of the Chinese authorities in Tibet and endured immense physical and emotional pain. The existing nunneries in the struggling Tibetan refugee community in India were already overcrowded and could not accommodate them."


"Most refugee nuns escaping to Northern India have had no education in their own language, nor have they been allowed education in their religious heritage while in Tibet. Many were illiterate on arrival and could not even write their own names."
Now, thanks to His Holiness the Dalai Lama, to the many learned monks who have shared their knowledge to teach the nuns and to supporters of the Tibetan Nuns Project, the Tibetan Buddhist nuns are now receiving educational opportunities previously available only to monks.
"Education is the key to empowerment," says Dr. Elizabeth Napper, Co-Director of the Tibetan Nuns Project. "We have made huge progress since 1987. In 2013 we reached an historic milestone when 27 nuns sat the first part of the Geshema exam, like a PhD in Tibetan Buddhism."
Tibetan nunneries were well established in Tibet from the 12th century, with traditions reaching back as far as the 8th century. Before the Chinese invasion in 1949, there were at least 818 nunneries and nearly 28,000 nuns living in Tibet.
Chinese Communist policies have attempted to destroy traditional Tibetan culture, particularly its unique religious heritage and rich tradition of spiritual practice and scholarship. In an attempt to eliminate Buddhism in Tibet, more than 6,000 monasteries and nunneries were destroyed between 1959 and 1980.
The Dalai Lama concluded his address to the nuns by calling on them to take leadership roles:
"The Dharma [Buddhist teaching] is at a critical juncture. You might think that it would be good to spend the rest of your life as a hermit, but we also need qualified people to teach others. Once you complete your studies we need some of you nuns to teach. Until now you have relied on monks to teach you, but in future it will be very important that there are also nuns to teach nuns."
These brave and dedicated women who risked everything to pursue their faith are helping to preserve Tibet's unique culture and religion.
You can learn more about the Tibetan Nuns Project at www.tnp.org
TOP