I am a Marxist monk: Dalai Lama
Express news service, January 19, 2008
Ahmedabad, India -- Tibetan spiritual leader, the Dalai Lama calls himself a Marxist monk, because "Marxism is more ethical, unlike capitalism".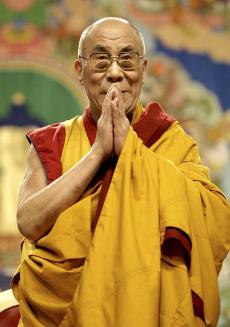 << Dalai Lama: I'm a Marxist monk
At a gathering at the Indian Institute of Management, Ahmedabad (IIM-A), he said: "I am a Marxist monk, a Buddhist Marxist. I belong to the Marxist camp, because unlike capitalism, Marxism is more ethical. Marxism, as an ideology, takes care of the welfare of its employees and believes in distribution of wealth among the people of the state."
Delivering a lecture on Ethics and Business, the Tibetan leader-in-exile said the global economy has created vast economic differences in every country of the world. "In the absence of ethical handling of money, the whole community suffer from a sense of insecurity. Exploitation of workers is maximum in developing countries. There are very high degrees of exploitation in India and China, similar to the exploitation during industrialisation of Western countries a century ago," he said.
Ethics, the Dalai Lama said, could be categorised as theistic, non-theistic, and secular, and need not be based on religious faith.
"In all the three cases, the definition of ethics remains the same. Both theistic and non-theistic religions advocate love, forgiveness, tolerance and compassion. Secular ethics, on the other hand, is based on the realisation of the same ideas on the basis of common sense and individual experience.
"Trust and openness should be the foundation of business ethics. Even according to modern scientific research, warm heartedness is important for the happiness, well-being and health of a person. Consequentially, it forms a sounds base for a happy society," the Dalai Lama said.