Dalai Lama calls for abolition of death penalty
AFP, April 10, 2005
TOKYO, Japan -- Tibet's exiled spiritual leader the Dalai Lama called on Saturday for the abolition of the death penalty and a revamp of centuries of academic-centered thinking on education to build a more "warm-hearted" world.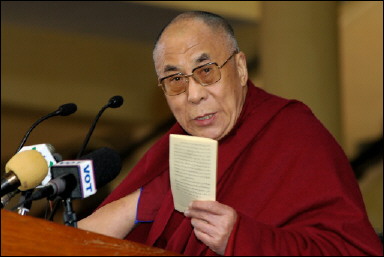 On the second day of a visit to Japan which has been condemned by China, the Dalai Lama told a crowd of hundreds in Tokyo that criminals should be treated with "compassion, not anger."
"Criminals, people who commit crimes, usually society rejects these people," the Buddhist monk said in a sumo wrestling arena rearranged for his address.
"They are also part of society. Give them some form of punishment to say they were wrong, but show them they are part of society and can change. Show them compassion," he said.
The Dalai Lama did not mention any countries in his appeal. Japan is the only major industrialized country other than the United States to practice the death penalty and has wide public support for executions.
China, which has ruled Tibet since 1951, carried out about 90 percent of the legally sanctioned executions in the world last year, according to Amnesty International.
China executed 28-year-old Tibetan activist Lobsang Dhondup in 2003 over a bombing that killed one person but amid an international outcry a Chinese court commuted the death sentence of monk Tenzin Deleg in the same case.
The Dalai Lama, taking questions from an audience concerned that Japanese youth were turning wayward, urged schools to change their focus.
"It is not sufficient for education to be just about academics," the 1989 Nobel Peace laureate said.
"There is so much emphasis on the brain. This is good but we should be equally concerned about being warm-hearted," he said.
"In the past few centuries there has been a neglecting of these qualities in education," he said. "We should try to introduce these qualities as part of education the world over."
The Dalai Lama's lecture was the first of five he will deliver on his 11-day tour of Japan.
It is his 10th visit to Japan -- or 14th including airport transits -- but he has not met a sitting Japanese prime minister since 1980.