Kosanji Temple combines the greatest hits of Japanese Buddhist architecture
by Steve John Powell, SCMP, June 9, 2016
On an island in the Inland Sea, Kosanji Temple is an architectural mash-up of Japanese Buddhism's greatest hits.

Hiroshima, Japan -- Are you ever stuck for Mother's Day gift ideas? Why not build her a temple? That's what Japanese businessman Kozo Kanemoto did.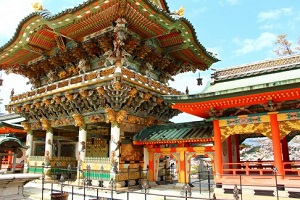 << Kosanji Temple, in Ikuchijima. Photos: Angeles Marin Cabello
When his mother died in 1934, Kanemoto, who had a successful steel-pipe business in Osaka, gave up his job, grew his hair and became a Buddhist priest, renaming himself Koso Kosanji. Two years later, he founded a temple in his mother's honour and devoted the next 30 years to its construction.
The fruits of his labour are tucked away on the tiny island of Ikuchijima, in the Seto Inland Sea, 18km off the coast of Onomichi, Hiroshima prefecture.
In the 15th century, the Inland Sea was a "kingdom of pirates" controlled by the fearsome Murakami clan, who demanded tribute from all passing merchant vessels. The labyrinth of misty islands and secluded bays made ideal pirate territory and the Murakamis' castle still stands on neighbouring Innoshima island.
Several islands are connected by the Shimanami Kaido Expressway, a spectacular network of roads and bridges that links Japan's main island of Honshu with Shikoku. Even so, the atmosphere is bucolic.
Ikuchijima has a population of just 11,000 people, yet it is home to a surprising amount of art and culture. Sculptures are dotted around as part of an island-wide art museum; the Bel Canto Hall is said to be one of Japan's top concert venues; and there's a museum dedicated to artist Ikuo Hirayama (1930-2009), renowned for his dreamy paintings of the Silk Road, who was born here.
What most visitors come to see, however, is the phantasmagorical Kosanji Temple.
IKUCHIJIMA LIES IN the Geiyo archipelago, the most island-studded and scenic stretch of the Seto Inland Sea National Park. There's a ferry to Ikuchijima from Onomichi, but it's far more fun to island hop along the Shimanami Kaido.
As soon as we cross the first bridge we're on "island time"; traffic evanesces and life slows.
We breeze across bridges surrounded by wind-sculpted islands rising out of placid waters that evoke the beauty of the raked gravel and rock gardens at Zen temples, albeit on an oceanic scale.
Once across the Ikuchi, an elegant 790-metre-long skew bridge, we head for Setoda, Ikuchijima's main town. Citrus trees are everywhere: lining the roadsides, carpeting hillsides and gracing gardens. Lemon ice-cream is a local speciality and there's even a theme park devoted to the fruit: Citrus Park Setoda. We spy a display of cannonball-sized citrus fruit outside a corner store. The fruit turns out to be anseikan, which like hassaku and iyokan, is unique to these islands. The elderly owner cuts us a slice each. The first bite is crisp and sour, but the aftertaste is pure honey.
Nothing quite prepares the mind for the spectacle that is the Kosanji Temple. Kanemoto - or rather, Kosanji - was not content to honour his mother with some humble little shrine. Only the best was good enough.
The Tatara Bridge.
He had replicas built of his favourite bits of temples standing across the country, a kind of "best of Japan" wonderland representing not just different places, but different epochs, too. Consisting of more than 20 buildings, representing eras from the Asuka (538-710) to the Edo (1603-1868), the temple is a trip through time and space, spanning 1,000 years of Buddhist architecture and covering 50,000 square metres. Pass through the Kyoto Imperial Palace's Shinshinden Gate (a bold red-and-white replica), pay the 1,200 yen (HK$90) admission and proceed to the Romon Gate of Nara's Horyuji Temple (known here as the Chumon Gate) and a sumptuous five-storey pagoda based on Nara's Muroji Temple.
Not content with simply copying the originals, Koso Kosanji embellished his creations for dramatic effect.
The statue of Guze Kannon, for instance, is modelled on one at the Horyuji Temple but, at 15 metres tall, it is more than seven times the size of the original. The extraordinary Koyonomon Gate - "my final wish", as Kosanji called it - is a full-scale reproduction of the Yomeimon Gate at Nara's Nikko Temple but with an added orgy of detail and garish colouring: golden goblins, glaring dragons, scary monsters, exotic birds both real and imaginary, cats nestling in forests or among lotus blossoms, Buddhas standing and reclining. Unsurprisingly, the gate alone took 10 years to complete.
Just behind the main complex, the sunlight shimmers on a pure white hilltop. Created by Hiroshima-born sculptor Kazuto Kuetani, the Hill of Hope is a 5,000-square-metre garden of Italian marble from which the Tower of Light rises heavenward, looking like two giant hands clasped in supplication.
Peckish after much sightseeing, we find a quiet nook behind the Octagonal Hall in a perfect piece of wabi-sabi - a waterfall splashing into a lotus pond, moss-covered rocks and stone lanterns, little stone bridges crossing a chuckling stream. We nibble onigiri rice-balls on a bench by a weeping cherry tree and watch little green birds called white-eyes darting among its branches as the sweet smell of incense wafts across from the temple.
An elderly couple from Tokyo sit next to us. They're going on to Omishima, the island just to the south across the magnificent Tatara Bridge, to see the Oyamazumi Shrine. Dating from the Kamakura era (1192-1333), it's one of Japan's three oldest shrines. It would make an interesting contrast to the 20th-century pastiche of Kosanji but, for us, it's time to return to Onomichi and the U2 Hotel Cycle, the first hotel in the country designed for cyclists (though motorists are welcome, too).
As we prepare to leave, though, a garish statue of an enormous phoenix beckons us across the road to the Kosanji Temple Museum, which houses more than 2,000 religious artworks and artefacts. We decide to sample more of Kosanji's wonders but, before embarking on another cultural feast, we need to cleanse our palate with one of those famous lemon ice-creams.
TOP