Japanese monk sings rap to bring Buddhism to young audience
DPA, Feb 28, 2008
Tokyo, Japan -- A Japanese Buddhist monk is getting down with rap music. Kansho Tagai, aka Happiness Kansho or Mr Happiness, learned to rap at the age of 47, and the shaven-headed chief monk of Tokyo's Kyooji temple is doing a pretty good job of opening the religious doors to young fans.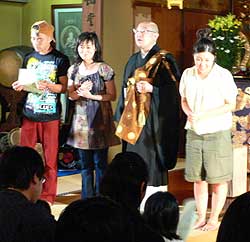 << "Mr Happiness" Ven Kansho Tagai rappin' with youngters
"I came to this world to help you out of suffering. My name is Shaka Munibutsu (Gautama Siddhartha). Say baby, listen to me. Everyone's my cute baby. I'm here to help you out of suffering and pain.. ." Mr Happiness raps, blending Japanese and English phrases.
Bobbing and waving his arms, the robed monk reaches out from the stage to shake hands with his young audience. Fans surround him after the show asking for autographs and for snapshots with the famous rapper.
Tagai has succeeded in reaching out to the new audience by shedding the traditional Buddhist facade, which divided the religious leaders from potential followers.
"As missionaries of Buddha, we are putting up a wall in front of us," Tagai said in an interview at his temple in Tokyo's Shinjuku district. "We had to make ourselves accessible and wave people closer so that they can understand Buddha's words."
Rap is the perfect means of communication because sutras have similar melodic rhythms, he said.
He says another temple in Tokyo's high-end district of Roppongi used to feature monks in robes chanting with the accompaniment of Brazilian samba dancers and a conga-maracas ensemble.
Tagai says he observed awkwardness in the samba-monk collaboration. The monks were too stiff and not bobbing with the beat. But the purpose was served: Samba, rap and hiphop all help to break the shell of religious orthodoxy.
Music is not the only way the Buddhist clergy has tried to lure a new generation of Japanese who has shown little interest in centuries-old religion.
Monks have opened bars serving cocktails called Heavenly Paradise and Burning Hell while tending drinkers who spill out their problems for consultation.
Tokyo's famous Tsukiji Hongwanji Temple, next to the nation's largest fish market, recently brought together eight schools of Buddhism and entertained visitors and worshippers with music, a collection of various monks' robes and fair-trade goods at an event titled Tokyo Bouzu Collection.
Although the main purpose of the event was to pray for world peace, the religious schools wished to increase youngsters' participation in the teachings of Buddha.
Tsukiji Hongwanji chief monk Kojin Matsubara says he hopes to stop the drift of young people away from Buddhism, which is mainly associated with death and funerals in Japan.
"We want to regain the role of temples as a place of gathering," Matsubara said at the Tokyo Bouzu Collection in December.
Shooting for the same goal, Mr Happiness was there to rap.
"People are seeking comfort, but it's not available in Tokyo unfortunately," Tagai said. "Humans can't live alone. We need to live within a community, but we lost it. Now young people can't satisfy their desire to get connected with others."
Temples can become a gathering place where young people are comforted, says Mr Happiness.
Although some orthodox monks have criticized Tagai's unorthodox approach, he still believes his effort has paid off.
Visit "Mr happiness" Kansho Tagai's blog:
http://happiness-kansho.blog.ocn.ne.jp/
TOP