Kenninji key to Japan's tea culture
by Kahori Sakane, Daily Yomiuri, Apr 24, 2008
First chief priest Eisai revered for spreading Zen and stimulating drink to nation
KYOTO, Japan -- Revered as the source of Japanese tea culture, Kenninji temple in Higashiyama Ward, Kyoto, is also host to a style of tea ceremony that is unique to the Rinzai sect of Japanese Zen.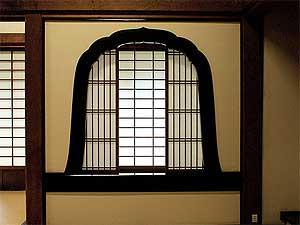 << "When you talk about Kenninji, you must remember that all tea culture in Japan started here"- Shingyo Mizutani
In the ceremony this past Sunday, four monks quietly entered a hall carrying serving trays each loaded with eight tea bowls and sweets for the 32 guests sitting around the room's perimeter. After everyone was served, each monk catered to eight guests, bending to pour hot water on the tea powder in their bowls.
Unlike the more well-known tea ceremony style in which a few people gather in a small tatami-mat room while a host passes cups of tea down the line of guests, the Kenninji style was usually used to serve high-ranking priests or aristocrats and was especially appealing to the Japanese because of its explicit hierarchical seating.
"When you talk about Kenninji, you must remember that all tea culture in Japan started here," says Shingyo Mizutani, chief priest of religious affairs at the temple, which is located in the Gion entertainment district.
The temple's first chief priest, Zen monk Yosai, better known as Eisai (1141-1215), is credited with establishing the Rinzai sect, the oldest of the three Japanese Zen sects, 800 years ago. He is most revered, however, for being the man who infused Japanese society with the culture of tea.
Isao Kumakura, professor emeritus specializing in tea culture at the National Museum of Ethnology in Suita, Osaka Prefecture, said, "If Eisai hadn't promoted the practice of drinking tea, taught people how to cultivate tea trees and how to process the leaves to make good tea, life in Japan today might be very different."
The tea ceremony held Sunday at the temple was part of Yotsugashira Chakai, an annual commemoration of Eisai's birth. On the day, more than 800 people attended parties at the temple hosted by three tea ceremony schools, including The Urasenke Tradition of Tea.
The history of the Japanese tea ceremony begins with Eisai's visit during the Nansong Dynasty of China in the late 12th century, where he acquired both tea tree seeds and the teachings of Zen.
However, Eisai was greatly disappointed by his first expedition to China, in 1168 at the age of 28.
His mission had been to visit Mt. Tientai, in what is now Zhejiang Province, to study a kind of Buddhism that had been imported from there to Japan 350 years earlier.
Upon entering the priesthood at age 14, Eisai had for eight years studied the same doctrine at Enryakuji temple, the headquarters of the Tendai sect, located on Mt. Hiei, the border of present-day Kyoto and Shiga prefectures, but he left after becoming disillusioned by the decadent behavior of the monks there. He hoped to study the doctrine at its source.
But arriving at Mt. Tientai after traveling to China on a merchant ship, Eisai found the teachings had been eclipsed by Zen Buddhism. He returned to Japan greatly disheartened.
His next trip to the China, however, in 1187, was far more fruitful.
Eisai, who is believed to have received financial support from merchants and others for the trips, planned to return through India, seeking ideas to reform Japanese Buddhism. However, Chinese authorities would not allow him to cross their country. At a loss, he decided to visit Wannian Temple in Mt. Tiantai.
Conversations with the temple's head priest made Eisai realize that he had been seeking Zen teachings all along, and he stayed at the temple to commence intensive ascetic training.
Like many other Zen temples, Eisai's new residence had tea gardens, which enabled him to learn the customs of drinking powdered tea, methods of cultivating tea leaves, the medical uses of tea and its well established place in Zen practices.
As is still true today, the ascetic training undertaken by the priests was intense, and they needed refreshments to remain alert.
"In Buddhism, priests drink tea to purify their mind and to relax," Mizutani said.
People of Eisai's era did not understand that this effect was caused by the caffeine in tea, but learned through experimenting that the beverage helped them pursue their training.
After four years in China, Eisai returned to Japan and began promoting Zen Buddhism in the Kyushu region. He told followers they could achieve enlightenment through zazen practice, which itself would be made easier if they drank tea.
"Eisai introduced tea to Japan partly because of his mission to spread Zen, since many Zen rituals were related to tea," Kumakura said. But he added that Eisai's primary motive was to share the medicinal benefits of drinking tea with Japanese, who were unfamiliar with the Chinese idea of using the beverage as medicine.
Within several years of Eisai's return to Japan, a number of Zen temples were constructed in the northern part of Kyushu island.
Eisai is believed to have planted many tea trees in the region and taught locals how to cultivate and process the crops. Today, fields in Kyoto, Fukuoka and Saga prefectures, which the government ranked in 2007 as the nation's fifth, seventh, and eighth largest tea producers, respectively, are believed to have originated from the very seeds Eisai brought back from China, as are the fields in the Uji area of Kyoto Prefecture from which the famous contemporary brand takes its name.
Moreover, tea cultivation in Shizuoka Prefecture, the nation's top tea producer, is said to have been started by Enni Benen, who is also known as Shoichi Kokushi (1202-1280), a Zen monk who served as the 10th chief priest of Kenninji.
Tea culture was beginning to spread through the nation, and along with it, Eisai's Zen teachings were gaining currency. But not everyone was pleased.
Monks at Mt. Hiei, where Eisai had first entered the priesthood, tried to halt Zen's encroaching influence by persecuting him, convincing the Imperial Court to ban his Zen missionary work in 1194. In response, Eisai wrote the 1198 book "Kozen Gokoku-ron," arguing Zen teachings did not conflict with the Buddhist doctrines taught on Mt. Hiei.
The teaching of Zen, along with his profound knowledge of tea, won Eisai the support of the Kamakura Shogunate, enabling him to continue his activities. In 1202, the second shogun, Minamoto no Yoriie, founded Kenninji temple in Kyoto and appointed Eisai as its first head priest.
At last, at age 62, Eisai had a base in the ancient capital from which he could promote his Zen cause. However, to avoid attracting more hostility, he chose not to make the temple exclusive to Zen and dedicated it jointly to the doctrines of the Zen, Tendai and Shingon sects.
At age 71, Eisai expanded his legacy even further by writing "Kissa Yojoki," a groundbreaking book that went into unprecedented detail about the medicinal properties of tea, as well as how to cultivate tea trees and process tea leaves to make powdered tea.
"The book was the first of its kind in Japan," Kumakura said. "Eisai made reference to various books from China to try to prove how effectively tea can improve a person's physical condition."
The book also details Eisai's theories about human organs responding to Buddhist mantras, proposing that a bitter substance like tea would strengthen the function of the heart.
Eisai never achieved his great ambition of integrating the three sects to create a new Buddhist doctrine, but by the time he died in 1215 at age 75, refreshment had already gained mass acceptance, and he enjoyed wide renown as the founder of Japanese tea culture.
Tea existed in Japan before Eisai made it his life mission, but it was limited in both supply and popularity. Some species of tea tree are native to Japan, but people were apparently unaware how to harvest the leaves. The earliest known citation of a tea being enjoyed in the nation is in the ancient text "Nihon Koki," which tells of a priest named Eichu serving tea for Emperor Saga in 815 after returning from China. The custom remained limited to Buddhist rituals for the next 370 years until Eisai began his campaign.
Why did Eisai succeed in generating demand where others like Eichu had failed? The answer is simple, according to Kumakura.
"The powdered tea brought by Eisai must have tasted much better than the previous one, a hard tea called dancha that combined steamed and fermented green tea leaves," he said.
Today, apprentice monks studying at Kenninji temple must go through gruelling practice routines, such as continually bowing all day while chanting sutras. They must sit in a practice hall entrance with their head lowered for two consecutive days, only moving to eat or use the bathroom. On occasion they must sit in a temple hall for five consecutive days.
"During such severe training, monks find a cup of tea energizing and refreshing," Mizutani says.
Kenninji temple also is home to such cultural properties as Fujin Raizin Zu (a drawing known as The Wind and Thunder Gods) folding screens drawn by Tawaraya Sotatsu, an artist of the early Edo period (1603-1867). The work is a designated national treasure and will be on display from May 8 to May 14 at the temple for the first time in about 10 years. In the Higashiyama area, there are several other famed spots such as Kiyomizudera temple and Yasaka Shrine.
Between a series of fires and the Onin war (1467-1477), all of the temple's original buildings were destroyed. The more than 400-year-old Hojo hall, another national cultural property, is one of the oldest of the about 25 structures standing today. The hall houses ink paintings by renowned artist Kaiho Yusho (1533-1615), which are designated important cultural assets.
Tea-related practices at the temple, including the tea ceremonies, are believed to have remained the same since they were imported from China as the tea practices themselves play important roles in the sect.
===
Heisei tea garden
On the premises of Kenninji, nearly 30 tea trees from China are planted in the Heisei Tea Garden behind a stone cenotaph commemorating Eisai's contribution to tea in Japan.
Since young buds appeared in early April, the trees were covered by a barred lattice of bamboo last Thursday to prevent sunlight from drying out the young tea leaves before they are picked in early May. Tea processed from tender leaves is milder and more flavorful.
The tea trees were planted to produce 200 grams of powdered tea to be offered to Eisai's statue in Kaisando hall on June 5, the anniversary of his death.
The tea trees have been cared for by an award-winning tea farmer of Uji, Kyoto Prefecture, at the request of Michihiro Miyoshi, chairman of Gion Tsujiri, a 150-year-old tea shop near the temple, who brought the trees from Guoqing Temple, where Eisai studied Zen Buddhism.
"I've always been thankful to Eisai. My family was able to have the business because he brought tea to Japan," said Miyoshi, a fifth-generation head of the tea shop known for serving sweets made with tea.
"The tea made from Chinese trees tastes more bitter than Japanese powdered tea," Miyoshi said. "But I'm always so touched that Eisai may have been drinking a similar-tasting tea."
In 1992 and 1995, a group comprising Kenninji priests, Miyoshi and other followers, went to China's Mt. Tiantai in Zhejian Province to follow in the footsteps of Eisai and brought back tea seeds from temples where he stayed.
Miyoshi said he was touched Eisai was still remembered by local people living around Wannian Temple. The group was welcomed on arrival by about 30 local people who began calling "Yosai, Yosai." They expressed their gratitude to Eisai, who donated a lot of money to reconstruct aging temples.
Kenninji temple is about a 10-minute walk from Keihan Shijo Station.
TOP