South Korean President to apologize for religious bias Tuesday
Chosun Ilbo, Sept 8, 2008
Seoul, South Korea -- President Lee Myung-bak will express regret over what Buddhist circles see as religious bias in a government dominated by evangelical Christians on Tuesday morning, to coincide with his approval of a bill in a Cabinet meeting that prohibits religious bias among public servants.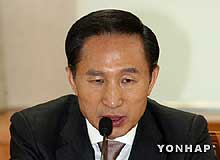 << South Kprean President Lee Myung-bak faces Buddhist protests over alleged religious bias in a government dominated by evangelical Christians
Lee will apparently express regret over a series of incidents in and outside the government that caused protests from Buddhists while exhorting public servants to prevent the recurrence of similar incidents.
In a meeting of senior presidential secretaries on Aug. 25, Lee said public servants "should not make remarks or take action that might undermine national harmony. Government agencies concerned should work out a bill and a systemic way to improve the situation."
Cheong Wa Dae officials and Buddhist leaders in a series of meetings last weekend closed the gap in their views on the bill on public servants' duties and Lee's expression of regret.
They are reportedly fine-tuning their views on two demands from Buddhists -- the dismissal of Police Commissioner Eo Cheong-soo and immunity for some anti-U.S. beef protesters who have been staging a sit-in in the compound of the Jogye Temple in central Seoul.
A government official said, "With regard to those wanted by police for having staged a sit-in on the compound of Jogye Temple, Buddhist circles are asking for leniency, and the government is considering accepting their demand to the extent possible during judicial proceedings. But there still is a difference of views between the two sides on Eo's case."
Lee is adamantly against dismissal of the police commissioner, who is pictured in a poster advertising an evangelizing event, "but there still is a possibility that he may accept Buddhist demands and take punitive action against the police chief," the official said.
In a town hall meeting to be televised live nationwide on Tuesday evening, Lee is to express his determination to resolve the issue.